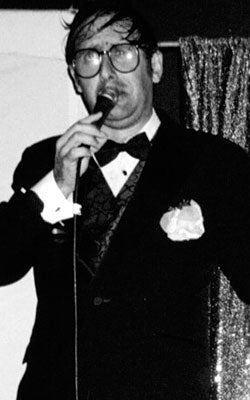 Well those games were a great big ball of excitement, weren't they? Michigan State amazingly won despite their receivers dropping a combined 3,878 passes, Northwestern got their victory with a late interception return, and Purdue outlasted Michigan 48-42. In fact, there was so much going on that
almost nothing came in to the Hugh Johnson Project!
So let's have ourselves a little pep talk. I know you're groggy from last night. I'm groggy too. But it's not about you. It never was. It's about the 9-year-old boy in rural Iowa who gets past his parents' password and stumbles upon a perfectly-worded joke about the futility of Michigan. It's about the geriatric woman from Arizona who finally got her first computer hooked up to the Internet, only to immediately turn it off forever after being horrified by gratuitous photos of two spry girls kissing at a college football game. It's about the Al-Qaeda member who decides against bombing American infidels after learning that we're not so different after all; we all have a common enemy in Pam Ward. So please, don't let them down. And don't force me to get Mike Singletary to come by and whip out his juicy man-ass! That said, we did get two jokes from the usual cast of characters:
drscooter19:
I get Pam Ward calling an awful game, meanwhile Purdue and Michigan are playing real life Madden. It's not fair!
s2nblog:
At what backwater tailor does Archie Manning get his tailoring done? Plaid is not exactly a pattern you want to see on a suit on TV.
One more Hugh to go for the afternoon, folks. Let's get to work!