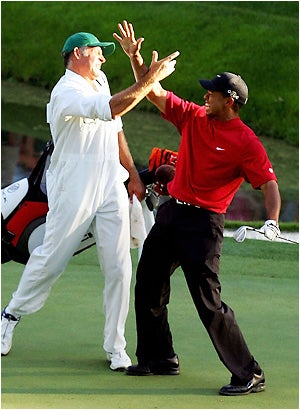 Well folks, you did it. We put out the call for action, and you did not disappoint. (Unlike Georgia and Florida State, who are currently getting smacked around. End obligatory update.) In fact, if you listen closely, you can hear the cry of joy from the young Iowan boy. And the gasp of horror escaping from the old lady in Arizona. And the shout of "Praise Allah ... among others" from the newly-accepting Al-Qaeda member. So without further adieu, let's let the inmates take over the asylum for one final time this afternoon.
anskyman2004:
Did Mike Vanderjagt die, and then reincarnate as Blair Walsh?
Yostal:
This is a new low. Oregon actually is the better dressed team in their match up with Cal, who has gone all yellow. It's horrifying. Even in short bursts.
s2nblog:
Gary Danielson just called Matthew Stafford a "gunslinger." Are we already anointing the new Brett Favre? Is the Eternal Spirit of the Gunslinger transferred to quarterbacks Dalai Lama-style even when the original isn't dead (or retired) yet?
(minutes later)
Stafford just threw a pick that Joe Haden returned to the UGA 1 yard line. Anoint him the heir to Favre if you wish, all the tendencies are there.
BlueSteel2626:
I was previously unfamiliar with Tulsa's team name. Is a Golden Hurricane something like a windier golden shower?
Encouraging Referee Pitman:
If Wisconsin finishes under .500, their fans should be forced to listen to Everlast's solo material between the 3rd and 4th quarters.
And for our finale:
jrlididio:
Some place in Champaign has a $25 Sandwich called the Big Fat Ugly, which consists of, and I shit you not, two rolls, four cheeseburgers, a double cheesesteak, a chicken cheesesteak, gyro meat, grilled chicken, bacon, sausage, mozzarella sticks, chicken fingers, chicken nuggets, mac n cheese bites, fried mushrooms, jalapeño poppers, pizza bites, onion rings, hash browns, American cheese, mayo, and ketchup. The Midwest may not have invented fat, but they perfected it.
Well done, everyone. You continue to make us proud.