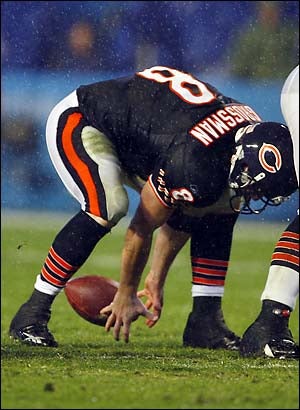 • Lions at Bears
: With Daunte Culpepper metaphorically breathing down his neck, Dan Orlovsky has responded, and has the Lions thinking about winning their first game of the season in Chicago. And now, enter the one and only
Sex Cannon
(who just hooked up with Rashied Davis for a TD).
• Jets at Bills:
Ugly game so far in Buffalo, littered with turnovers and field goals. Abram Elam did provide a worthy highlight, however, as he intercepted a Trent Edwards pass and returned it 92 yards for a score. Jets up 16-7 early in the third quarter.
• Packers at Titans:
Following a flurry of field goals in the first half, Aaron Rodgers connected with Donald Driver for a score, and Chris Johnson responded with a short TD run. Titans up 13-10 midway through the third.
• Arizona at St. Louis:
The Cardinals are killing St. Louis so far, leading 24-7. Kurt Warner must've said his prayers this morning, as the ageless wonder threw for 252 yards in the first half.