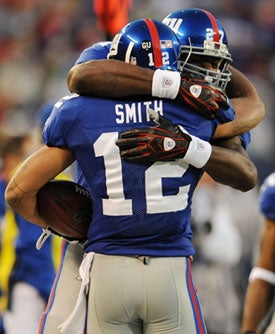 Kevin Boss, Amani Toomer, and Steve Smith (pictured receiving love from Brandon Jacobs) have been the recipients of Eli Manning's three touchdown passes as we head from afternoon to evening at the Meadowlands. It hasn't been all good for the media's new favorite Manning, he's tossed an interception and fumbled on a play where he was untouched in the pocket. Of course none of that can compare to the incredible ineptitude on the other side of the field. The Cowboys have been called for penalty after penalty, and Brad Johnson is on his way to the bench after throwing a pair of interceptions. But don't blame it all on ole BJ. When the Cowboys were in position to score following a turnover TO was stripped of the ball by Antonio Pierce. The Giants lead 21-7 at the half.
Update: And as if on cue, Brooks Bolinger enters the game and throws an interception. Suit up Jason Garrett! Touchdown Brandon Jacobs, and it's 28-7.
•
That got out of hand in a hurry.
Atlanta jumped all over the woeful Raiders with two first quarter touchdown drives which went for a combined 158 yards. Matt Ryan has been downright filthy with a stat line to prove it. The rookie is 13/16 for 184 yards with two touchdowns and no interceptions. Both aerial touchdowns went to Michael Jenkins while Jerrious Norwood added another on the ground. Norwood has paired with Michael Turner for 132 yards. Meanwhile in the other locker room, JaMarcus Russell is 2/7 for nine yards. Seriously. The Raiders have
fourteen fucking yards of offense
. Al Davis would kill himself, but he's already undead. •
The league is more fun with a little Koren in it.
The oft-troubled Koren Robinson returned to the spotlight for all the right reasons this afternoon thanks to a 90 yard touchdown catch and run from Seneca Wallace. However it's the Eagles that have taken control of this game through two quarters. Donovan McNabb has 166 yards passing including two touchdowns, one to Reggie Brown and one to Todd Herremans (an eligible tackle). Somebody named Brent Celek has racked up over 70 yards receiving. Brian Westbrook has had a rough time of it against the Seahawks front line, but Philly leads 14-7 at the half. •
Wildcat...
The Dolphins and Broncos are moving along pretty nicely. Both Chad Pennington and Jay Cutler have moved the ball through the air, however Cutler has two interceptions, and the Broncos running game has been nonexistent. Michael Pittman and Ryan Torrain have combined for three yards on nine rushes. Why that's just downright Raideresque! Miami leads 16-7 behind three field goals from Dan Carpenter along with a pick six for Will Allen. Eddie Royal was on the receiving end of Denver's lone touchdown.