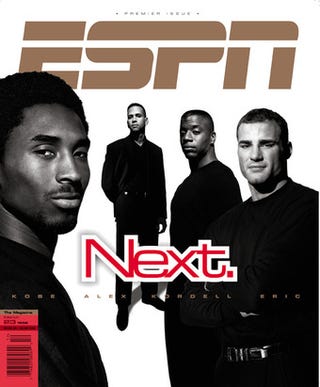 ESPN "The Mag" has unveiled its annual "Next" issue candidates, where it picks a handful of athletes destined for large endorsement deals, debilitating concussions, homosexual rumors, Madonna trysts, and Colorado rape trials. Oh, and greatness. This year's batch includes the Rays' filthy left-hander
David Price
; Falcons quarterback
Matt Ryan
; racecar driver
Joey Logano
; and Spanish basketball phenom
Ricky Rubio
. But what's amusing is their archived section, where it has the "Next" issues over the past ten years. For the most part, they've been pretty solid, safe choices. Other times...not so much. After the jump, let's look at some of their more ridiculous misses.•
Kordell Stewart,1998
: "But none can move like Stewart. The Slash handle has faded, and "NFL Prototype Quarterback of the Future" has emerged. In an odd twist, Stewart has finally been able to live down his physical skills and at the same time prove tha a remarkably adroit quarterback is a lot better suited to the nuances of today's league than a lead-footed robot." •
Keith Van Horn, 1999
: "It's apparent that the Nets forward grew up on the Showtime Lakers. You can tell from the deadeye way he drives the lane, that way that has wiped the urge to call him Opie right off the minds of a thousand defenders. It's in his unquestioned interest in taking the three-no, taking just about any shot on the floor. The guy Jayson Williams calls Pale Rider even plays the noncontact form of D favored in L.A., too." •
Kaz Matsui, 2004:
"For now, though, all eyes are on 28-year-old Kazuo Matsui, the newest Met. He's been called one of the top five shortstops on the planet, right up there with A-Rod, Nomar, Jeter and Tejada. And he just might be the best pure athlete the Japanese game has yet produced. There is no doubt he's a star. Fans know it. He received stacks of mail from supporters of the Lions, his team for 10 years, begging him to finish his career there. "It made me feel good to know people cared that much," he says." •
Vince Young, 2006
: "By the thousands, you implored us to recognize that the 6'5", 233-pound Young possesses a unique combination of physical gifts,
competitive fire and clutch decision-making skills; that his mind is as fast as his feet
; that he went 30-2 as a college starter; that he outgained Bush by 290 yards and three scores in the biggest college football game of the century. By the thousands, you told us not to give too much credence to the old-boy network of NFL coaches, GMs and scouts whose pulses race when Bush swivels his hips. And by the thousands you said, "Do us a favor. Go back and watch the damn national championship game again." " •
Michele Wie, 2006
: "You want someone who can change a sport? Michelle Wie can change the world."