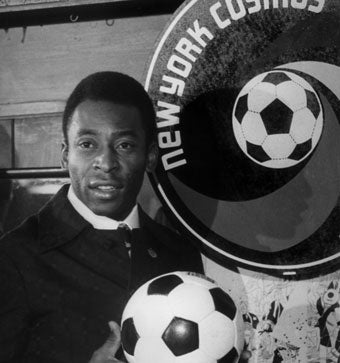 Are you now or have you ever been affiliated with the North American Soccer League? If so, you can stop boring your friends with tales of late-'70s "cleat parties" and actually do something useful. Like contacting NASL superfan Dave Wasser, who is amassing the world's largest collection of game tapes in a quixotic attempt to create a definitive video library of matches that no one really wanted to watch in the first place. As you can imagine, American soccer games from the 1970s are not that easy to come by. Most matches weren't broadcast on television and even if they were, TiVo hadn't been invented yet. There was a bizarre technology known as "video cassettes," however, and Dave is on a never-ending quest to hunt them down. Welcome to your future, MLS fans.
When the league offices shut down in 1985, someone from the office called around to various players and coaches saying, "We've got these tapes of the games you were in, do you want them." The problem was that they were on 3/4" tape. Your standard home VCR is 1/2" tape. People had footage of themselves they had literally never seen because they didn't have the equipment. So, a decade later, as Wasser is following the league tracks, he's telling people, "I can play those tapes, do you want me to copy them for you?"
He currently has about 300 of the league's 1,000 or so matches and keeps a record of them on his website. He also collects U.S. National Team games and has so many that when US Soccer needs old game footage, they call him. This is truly a pursuit worthy of only the most obsessive sports fans, and even though Dave understands that his task will never truly be completed, he soldiers on, desperate to find footage of that classic 1978 Minnesota-New York playoff series. (Who could forget that?) Oh, and it doesn't help that there is one league official who actively obstructs Dave's hobby, by controlling the rights to his team's games, but refusing to let his tapes be copied for any reason. That's right—it's Elliot Hoffman, former owner of ... the Philadelphia Fury.
Why Yes, He Does Have a Copy of the Tulsa Roughnecks v. the Edmonton Drillers
[Unprofessional Foul]
Historic Soccer Videotapes
[DaveBrett.com]