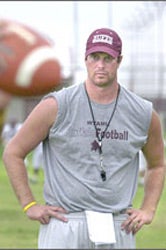 It was just a couple months ago when
Portfolio.com
did an interesting feature about the post-NFL career of quarterback Ryan Leaf, detailing his remarkable success as football and golf coach at West Texas A & M and, most surprising, the fact that he's still a multi-millionaire thanks to past endorsement money. But there may be some trouble in Leaf's post-NFL oasis, as ESPN.com is reporting that
Leaf has taken a leave of absence
from his assistant coaching position at West Texas A &M for "personal" reasons. ESPN also dropped this little nugget of info in the story:
A person briefed on the situation said that Leaf acknowledged he had asked a player for a pill to help him deal with pain in his wrist dating to his NFL playing days.
The West Texas A & M athletic department hasn't had an official comment yet, but they also said they weren't sure if Leaf would still coach at the university after this gets sorted out.
Leaf placed on leave of absence
[ESPN]