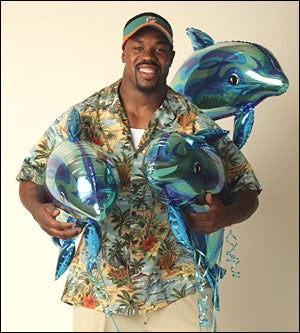 Popcorn-muscled Dolphins linebacker Joey Porter picked a new target this week for his venomous trash-talk and this week's victim is Jacksonville Jaguars' receiver Matt Jones. You might remember when Jones was caught chopping a pile of cocaine in a pick-up truck in June , as did Peezy, who had this to say about that situation:
He got caught with cocaine and Matt Jones is still playing football. How does he get away with that? And then you fine people $20,000 for making comments to the media about the refs. The guy got caught with cocaine."
The $20,000 is in reference to himself (of course), when
Roger Goodell fined Porter that amount last month
after he made disparaging remarks about Ed Hochuli's refereeing when the Dolphins played the Houston Texans. But does Porter have a point here? Jones was suspended for three games after his arrest, but is currently involved in the appeals process which enables him to still play. (He's also the leading receiver on the Jaguars this year. Cocaine:helluva drug.) Is there a double standard in the way the league handled Jones' (white guy) drug charge and the way the league handles the rest of its rule-breakers?
Porter says Jags' Jones shouldn't be playing
[AP]