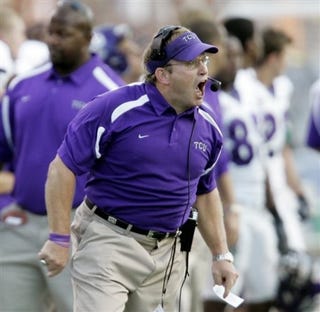 Remember how I said that Versus stole a march on ESPN back when TCU played BYU and Florida State was playing N.C. State on Thursday October 16? Yeah, it's happened again. Only this time the game is on CBS College Sports. Which, if you're like me, you don't get on your television package because Comcast doesn't carry the channel. Or even allow you to purchase the channel for more money. Awesome. None of that changes this fact though: The Mountain West Thursday night game is infinitely more interesting than the ACC game. Between them TCU and Utah have 18 wins and a single road loss at Oklahoma. Meanwhile Maryland and Virginia Tech are driving their fans insane. Neither fan base has any clue what to expect tonight, or any night for that matter, this season.
TCU (-2) at Utah
- In case you haven't been paying attention Utah is undefeated at 9-0. They boast road wins over Michigan (back when that actually looked somewhat impressive) and a home win over Oregon State. Meanwhile TCU's only loss is at Oklahoma back in September. Since that loss they've played five games and given up a grand total of 42 points. Included in that run was a 32-7 beat down of then undefeated BYU. As a result the TCU defense is giving up only 10.7 points a game. Even more impressive? Their run defense is only allowing 37.8 yards a game. All of this means TCU's Gary Patterson is about to become the hottest coaching candidate you'd never heard of prior to this season. As if that weren't enough a shot at the BCS is at stake for both teams. TCU, at 9-1, doesn't play again until November 22 when they host Air Force. Win and they've clinched a share of the Mountain West Title. Not to mention it will bolster Oklahoma's one-loss team standing a bit more in the process since they'd probably slide into the top ten of the BCS. Utah is 9-0 but still has games left against San Diego State and BYU. With the strength of the Mountain West this year, isn't there a pretty strong argument that if the Big East can get an automatic BCS bid with only 8 teams that the Mountain West, with 9 teams deserves one as well?
Maryland at Virginia Tech (-3)
- Maryland is great as long as they play ranked teams, Virginia Tech is fine so long as no one pays attention to them. This game should be tubular! After losing their home opener to East Carolina people forgot about Virginia Tech. The Hokies reeled off five straight wins to claim first place in the ACC Coastal Division, rose back into the top 20 of the polls, and subsequently lost two straight games at Boston College and at Florida State. At 2-2 in the Coastal Division, Virginia Tech has to win to stay in the division race. Although, to be fair, someone is going to win this division with a 5-3 record and Tech already has the tiebreak over Georgia Tech and North Carolina. So maybe they don't need to win. Maryland remains the biggest enigma in college football this season—leading the ACC Atlantic despite a loss to Middle Tennessee State and a 31-0 loss to Virginia. In addition to going on the road at Virginia Tech, Maryland closes out with home games against North Carolina and Florida State and a road game at Boston College.