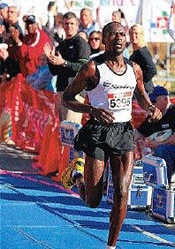 In a move that was reminiscent of the lady runner who didn't get a prize despite running the fastest time in a San Francisco marathon, another speed demon was recently disqualified from his race despite running the 26.2 miles faster than anyone else that day. Unlike the school teacher (who eventually did get a medal) we have a harder time feeling sorry for this guy, however, because he was actually entered in the half-marathon—but he missed a turn and accidentally ran the whole thing . Nicholas Kurgat had never even run a half-marathon before he registered in that portion of Raleigh, North Carolina race last weekend. But when he reached the 13-mile mark, he missed the turn to the finish line so he figured he'd just kept going.
Nicholas Kurgat finished the 26.2 mile-course in just under two hours, 20 minutes, a time considered elite even for experienced marathoners. But as Kurgat was not officially a competitor in the full marathon, he was disqualified from the event. And, not having properly completed the half-marathon, he was disqualified from that as well. Both disqualifications are required by the guidelines of USA Track & Field.
Kurgat lives and works in North Carolina, but was not born there. Want to guess what country he was born in?
Half-Marathon Registrant Misses Turn, Wins Full Marathon
[Finding Dulcinea]