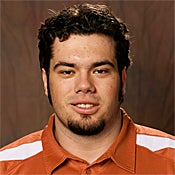 After Texas backup center Buck Burnette was kicked off the team for his
idiotic Facebook status comment
, he issued a
sincere apology
that, at the very least, proved he knew what he did was wrong. The online contrition tour continues for Burnette, and now he's fired off another apology via Longhorn fan site Orangebloods.com. This one passage, published by the
Dallas Morning News,
is a little more over the top and spiritual:
I sinned against man and God posting what I did. That statement breeds hate and it was never my intention to cause those controversial feelings. The people who know me and know my heart will know this to be true. I have received tremendous support from both black and white players on my team and for that I am truly grateful. For those that remain offended, I hope that over time you will be able to forgive me.
Deep.
If Burnette is ever allowed back on the field again, his first order of business should be to do something symbolic to acknowledge his racial epiphany. Maybe he could wear a black and white glove and raise a fist over his head?
Ex-UT player offers apology for Racial Slur
[Dallas Morning News]