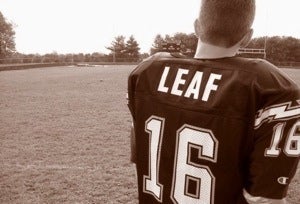 And...scene. Former inept NFL quarterback Ryan Leaf seemed poised for success while coaching at DII West Texas A & M , but thanks to a recent pill-popping scandal, that career path might also be over for good. At first, Leaf was given a leave of absence by the university for him to work on his "personal " problems, but Leaf ended all chances for a return by gracefully stepping down .
Coach Leaf offered his resignation this morning, which I accepted," WTAMU athletic director Michael McBroom said. "He does not want his personal issues to become a distraction to the players that he has coached for the past three seasons.
This is a shame. Ryan Leaf is obviously not the first or the last big-time quarterback bust in the NFL, but unlike those before and after him, he'll always be remembered for the
vein-popping freak-out against the San Diego Tribune's Jay Posner
. Now he can add alleged painkiller abuser to his life's resume. For his third act, expect nothing short of a DUI or spousal abuse charge to complete this vaunted trifecta of failure.
After taking leave of absence, Leaf steps down as WAMU assistant
[ESPN]