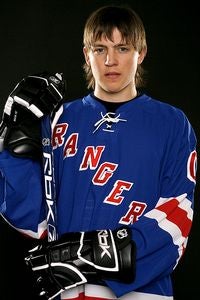 It's been almost four whole weeks since the New York Rangers' top draft pick Alexei Cherepanov collapsed and died during a league game in Russia, so the team probably figures that enough time has passed that someone should address the needs of those who have been most effected by this senseless tragedy—the New York Rangers. They want the league to soothe the pain of their loss by giving them a new draft pick . Cherepanov was not actually signed to an NHL contract and therefore is "technically eligible to be drafted again" even though he is "technically" dead. The Rangers feel that entitles them to a second-round compensation pick in the 2009 entry draft. That's ... fair? But I think it's the touching and compassionate way that the Rangers have addressed the issue that really drives home the pain that Alexei's death has caused.
"It seems now as if that phrase is unintentionally precluding the deceased from being included as eligible for compensation. We understand that this is a sensitive issue, but with all due respect to Alexei's family and his memory, he is technically eligible to be drafted again next year. We are not attempting to capitalize on a tragedy, but there would be no question regarding the Rangers' right to a compensatory pick if Cherepanov had been revived and survived the incident and were on life support ... If an unsigned player sustained a massive injury on or off the ice, the drafting team would get a compensatory pick."
See? Even if this 19-year-old kid was merely stuck in a persistent vegetative state, the Bruins would still probably draft him and then everyone would agree that New York deserves redress. Everyone just deals with grief in their own way. With all due respect ... that's kinda fucked up.
RANGERS SEEK PICK FOR LATE PROSPECT
[NY Post]
Report: Rangers seek draft pick in wake of Cherepanov's death
[ESPN]