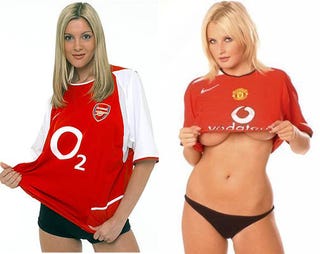 There's no questioning what the match of the weekend is this time around as two of England's big four meet at Emirates Stadium at a crucial point in the year. The Red Devils are clearly the team in form while the Gunners will be forced to go without the services of Emanuel Adebayor (injury) and Robin van Persie (dumb red card) up front. That means it's all the more important that question marks like William Gallas and Theo Walcott return to the lineup for Arsene Wenger if they are to have any chance over the defending champions. Arsenal has already been upset three times in EPL play this season, and they'll need a huge effort from young stars Cesc Fabregas and Samir Nasri to keep from falling out of the top four. The way Manchester is playing doesn't bode well for the Gunners, no matter who suits up. Kickoff is set for 7:45 am on Setanta. Other televised matches of interest...
EPL - West Ham vs Everton at 10 am on Setanta
EPL - Sunderland vs. Portsmouth at 10 am on FSC
Bundesliga - Hamburger vs Borussia Dortmund at 11:30 on GolTV
EPL - Liverpool vs. West Brom at 12:30 on FSC
La Liga - Real Madrid vs Malaga at 2:00 pm on GolTV
Serie A - Bologna vs. Roma at 2:30 on FSC
La Liga - Barcelona vs Valladolid at 4:00 pm on GolTV
Enjoy the action and follow along in the comment section all day long.