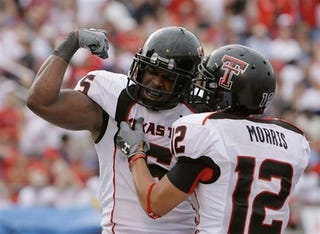 While we're enjoying the 3:30 games and rubbing the bedsores from laying in front of the TV for another Saturday (or is it lying? Where's Ufford when you need him?), don't forget about the two quasi-colossal games in the 8:00 hole. The No. 2 Texas Tech-No. 8 Oklahoma State game will be liveblogged here by Matt Sussman.Theimplied BCS implications by those rankings are obvious. But don't forget about No. 7 USC at No. 21 Cal. The Golden Bears might have a backdoor shot into a BCS bowl if they can take down the Trojans at home tonight. And wrapping up your Hugh for another Saturday. Thanks for everyone that submitted.
One of the announcers in the Duke/NCSU game just said "In the words of Johnny Cash, you gotta know when to hold em and know when to fold em." Somebody clearly doesn't like delicious roast chicken. Or beards
. —Adrockuw
the Big XII is hogging all the good teams, imitating the SEC. The SEC is hosting yet another shootout, aping the Big XII. I'm feeling all left out, why doesn't anybody wanna be like my beloved Pac-10!??
—Spacecowgirl01
Does anyone know how that couple in those Sonic commercials doesn't get a divorce?
—Yostal
Jerrod Lee throws another pick 6, or Touchdown After INT (TAINT) as Simmons likes to call it. It's one of the few funny things he's come up with.
—DrScooter19