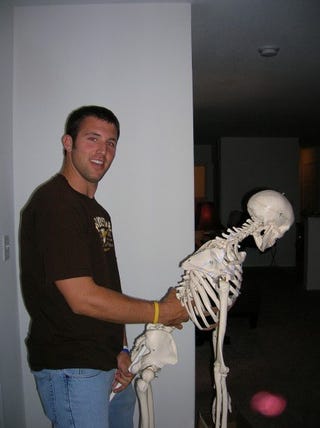 The Kansas City Chiefs are mired in a classic rebuilding season but the last three weeks the team has shown remarkable improvement on offense, most notably third-string quarterback Tyler Thigpen. The former Coastal Carolina quarterback has responded with some eye-opening output in his last three games, and yesterday, he had his best effort to date: 27 for 41/266 yards/no picks. Granted the Chiefs lost on a failed,
fuck-it-we-suck two-point conversion try against San Diego
, but Thigpen's play has resulted in a much sunnier outlook from frustrated Chiefs' fans: •
Arrowhead Pride
says, "I can't remember the last time the Chiefs got the ball late in the game down in the score and I felt pretty good about our chances to drive 60 yards for a score. I watched Tyler Thigpen yesterday and felt a confidence I hadn't felt in a Chiefs quarterback in a long time. Even though the Chiefs didn't convert the 2-point conversion to win the game (which they wouldn't have had to if we hadn't missed a PAT earlier), they came closer to their second win than the last two weeks." •
MVN, Home of the Chiefs
: "It's not just the fact that he's played very well in three consecutive games. It's not just the fact that he's managed to stay healthy, while Croyle and Huard could not. It's not just the fact that he hasn't thrown a pick in three games. It's not just the fact that he's carried this team on his back, even despite the complete absence of a running game, which is a quarterback's best friend and a defense that can protect his leads. It's not just the fact that Thigpen looked like a 15-year veteran as he drove the ball down the field with a minute and a half left during a key touchdown drive." •
Arrowhead Addict:
"I will not be talking about QB's any longer, I feel Tyler Thigpen barring a major melt down is the Chiefs starting quarterback not only the remainder of this season, but the start of next season as well. He didn't cave under the pressure of the two minute drill with time expiring. No my fellow Chiefs fans, i will focus on the defensive side of the ball." Of course there are still those who think otherwise. You know, like
Whitlock
:
"As for Tyler Thigpen (266 passing yards and three TDs), I like what he's doing, but I'm far from sold on him as anybody's quarterback of the future. He's not Rich Gannon. He's a good backup. The ability to improvise and an instinctive swagger define starting NFL quarterbacks. I don't see those qualities in Thigpen."
Tyler Thigpen Will Guide The Chiefs to Victory Right After Making Gentle Back-Door Love To This Skeleton
[Deadspin]