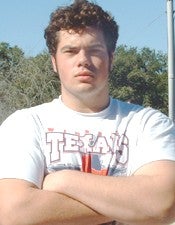 Last week, University of Texas back-up center Buck Burnette learned a very valuable lesson about both his Facebook and racist status,
after he posted the disturbing hillbilly-like message
"all the hunters gather up, we have a #$%&er in the whitehouse" on his personal page and was subsequently kicked off the team. Too bad — because this week Burnette could have started, since starting junior center C
hris Hall will miss Saturday's game at Kansas due to a sprained left knee
. Instead, freshman David Snow will get the nod. Hopefully, he doesn't say anything stupid
on his Facebook page
over the next two days.(Note: Not the same David Snow's Facebook.) ****** TONIGHT: Drew Magary: 7PM is the reading for Men With Balls at the Tysons Corner Borders store. The address is 8027 Leesburg Pike in Vienna (/sausage joke). See all two of you there. Look for the sign that says "Puppet Show and Drew Magary". HURRY. Thank you for your continued support of Deadspin and all of its lap dances. Is that
SKEETS
on my leg?