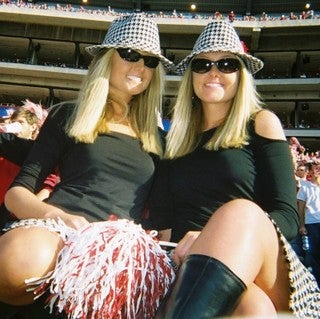 Now that everyone knows exactly what's going to happen with the rest of the college football season, this is when something inevitably blows up. Because if there's one thing we know about the convoluted BCS system, it's this: nothing is certain with three weekends to go. Alabama still has to get past Mississippi State and then beat a desperate Auburn team for the first time since 2001. Florida has to get past the Ole Ball Coach and then go on the road to play Florida State. Meanwhile Texas goes to Kansas and tries to avoid getting Mangino'd (the possibilities of exactly what this would entail are endless.) Without further ado, here are the 11 most intriguing games of the weekend. Do dive in.
Cincinnati (-4) at Louisville
- The Bearcats win the Big East if they can win on the road tonight at Louisville and then next week at home against Pitt. Yeah, Cincinnati might be in a BCS bowl. Prior to this the best bowl Cincinnati has ever been in is the PapaJohns Bowl. What's more they've only been to 10 bowl games in their history. Should be interesting to see how the team responds.
Miss. State at Alabama (-22)-
Chances are you had no idea that Miss. State has beaten Alabama two consecutive years. And that in those two years Alabama hasn't scored an offensive touchdown. But they have. So that means Alabama probably isn't overlooking this opponent one week after they clinched the SEC West. Except, you know, this game is slotted between LSU and Auburn. Of course State also hasn't won a road game yet this season but, even still, this spread seems a bit high. Right? Especially since Alabama hasn't beaten any SEC team by more than 20 since the middle of September. But that's not stopping the Houndstooth twins, Maegen and Ashley Bailey, from remaining steadfast in their support.
Texas (-14) at Kansas-
The year after their magical season the human blimp that is Mangino has returned to earth. At just 6-4, Kansas has lost every big game they've played this year, including 3 of their last 4 overall. Now Kansas has Texas and Missouri left on the schedule. Could Texas be ripe for the upset in Lawrence? If Kansas is going to have any kind of season worth remembering they have to win one of these final two. Otherwise they'll slink into a bowl at 6-6 and fans will have to convince themselves that 2007 actually happened. Don't worry, it did. We have the picture to prove it.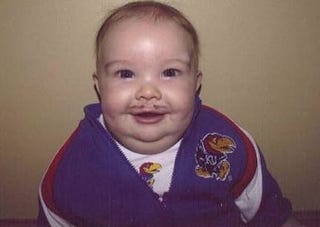 Meanwhile, Texas can't just win. They've got to slaughter Kansas and then sit back next weekend and root for Oklahoma to beat Texas Tech by 1. So it all comes down to the BCS standings to see who represents the Big 12 South in a three-way tie.
South Carolina at Florida (-23)
- Steve Spurrier's headed back to the Swamp for the second time. In 2006, it took a blocked field goal on the final play of the game to preserve Florida's chance to play for a national championship. Now the Gators look unstoppable. But doesn't that line seem a bit high considering South Carolina has the best defense in the SEC? I think so. But then, Florida's offense has looked truly unstoppable for the past month. What would the over/under be in a hypothetical Florida/Big 12 Champion be? 85? Maybe.
Notre Dame (-4) at Navy
- Remember way back when Notre Dame signed Charlie Weis to a 58 year contract extension and a few people questioned whether that was smart? And then Notre Dame fans got all upset and ripped anyone who didn't want to buy the lard from Charlie's gastric bypass surgery on eBay? Yeah, good job picking your battles. Weis's coaching record is worse than Bob Davie's. Navy has a winning record and is coming off a win at Notre Dame last year. Could Notre Dame really lose to Navy twice in a row?
Utah (-30) at San Diego State
- As soon as they win this game Utah will be 11-0 and only have a home game remaining against BYU to complete a perfect regular season. Admit it, you don't care because they aren't in a Big 6 conference. God, you suck. Almost as much as San Diego State sucks. But not quite.
Ohio State (-9.5) at Illinois-
One year after Ron Zook took Illinois to the Rose Bowl, he's got to beat Ohio State or Northwestern to be bowl eligible. Since September 13 Illinois has alternated wins with losses. Last week they lost. Can they take down Ohio State for the second year in a row?
Cal at Oregon State (-3)-
The conspiracy to refuse to acknowledge that Oregon State remains on track to win the Pac-10 continues for yet another week. Oregon State has three games left and is standing at 5-1. Win out and they win the Pac 10 for the first time since 1965. Yet no one is paying attention to this. Except Beaver fans. Which should be everyone but Vince Young.
Georgia (-10) at Auburn
- Tommy Tuberville has to beat either Georgia or Alabama to be bowl eligible. Who saw this coming? Tennessee's collapse has sort of sucked the air out of the national story surrounding Auburn. They couldn't really fire Tuberville could they? Last week Matthew Stafford saved the state of Georgia from the most dispiriting autumn since 1864. But there are still a couple of minefields remaining. This is one. Usually, anyway.
North Carolina (-3) at Maryland
- Won't someone please win the ACC? In typical ACC fashion this year two new teams control their own destiny this week. If North Carolina wins all they have to do is beat N.C. State and Duke and they win the ACC's Coastal Division. That's simple enough. But if they lose? Who the hell knows. Same thing with Maryland, win their next three games and they win the Atlantic Division. Lose and we're back to being confused. What a mess.
Vandy at Kentucky (-4)
- Remember back when Vandy was the feel-good story of college football and had won five games in a row? Yeah, now they've lost four consecutive games when a win could have made them bowl eligible for the first time since 1982. In two of these games, against Duke and Mississippi State, they've been favored to win. They have three games left to get that win. Can it happen in Lexington? If it doesn't you might be witnessing a pretty epic choke job.