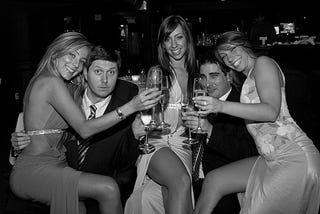 Thank GOD this week is over. Christ. Between going out on dates with
dim-witted strippers
,
gloom-and-doom reports from management
,
litigious MMA fighters
and threats from spatially-challenged
U of F co-eds
, this week has been a perfect storm of corporate drudgery. Well, not the stripper. But that was soul-sucking in its own predictable way. Here's some stuff that managed to amuse, though: •
Jamboroo
•
Florida State brawlers
•
Olbermann gives a shout-out to Civil Negligence
•
The Nutt gals
•
Piazza writing a book
•
Jason Whitlock had some issues
This weekend, you'll have a cavalcade of weekend editors from KOGOD's Weekend Army to keep you occupied and let you know if Brock Lesnar survives his first real fight. Thank you for your continued support of Deadspin. Fuck it,
let's SKEET
and drink like there are no more Mondays. Audi 5000.