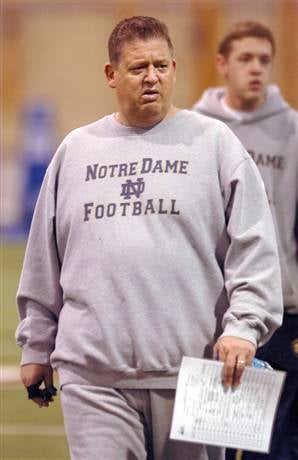 Welcome back, friends, to your weekend edition of The Hugh! Seems like the big storyline in this week's early slate of games is whether or not Charlie Weis is going to still be employed at Notre Dame if he loses to Navy (currently tied at 7) or if he'll be another soul left jobless in this struggling economy. When you think about it, that line of thinking doesn't make a whole lot of sense - if the ND head honchos are really looking towards Navy as some kind of "test", isn't that proof enough he should be canned? - so don't expect Weis to go anywhere. Except the Sizzler for their Steak & Steak Combos! Delicious! Let's get you caught up elsewhere in the land of collegiate pigskin. Not a whole lot happening yet. Penn State is knotted up at 7s with Indiana, Michigan is up 14-7 against Northwestern, Ohio State is trouncing the Illini, Texas has a 7-0 lead over Kansas, and Auburn has a 6-0 lead over Georgia in your upset special. But enough of me, what about HUGH?
"Question of the day: are Charlie Weis' steel-belted trousers strong enough to withstand America's military might?"
- FiddlingWhileJimRomeBurns
"The sound in the Michigan/Northwestern game just went out, proving that even God is tired of listening to Pam Ward."
- JWaldman11
"I can't wait until the BCS is reorganized into the Obama Bowl."
- greenmightymoose
"Pam Ward gets another Northwestern game. Makes me wonder if she's blowing the.....ah who am I kidding, there are no lesbian ADs."
- drscooter19
"The Big 11 has a commercial in which they brag about Michael Wilbon. I'm speechless."
- MrRedDevil4Ever And since we started with Big Charlie, let's close out with him as well:
"Over/Under on crabcakes buried in Charlie Weis' sweatshirt: 42."
- commenter "Chad Sexington" Well done, folks. Keep 'em coming.