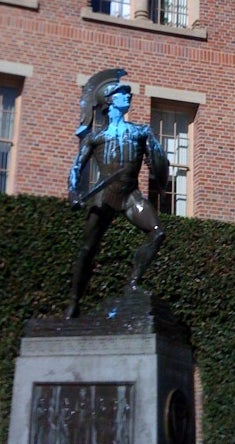 Since it looks like Mr. Weis is going to be keeping his job as the Leader of God's Army - thankfully, or else where would we put our fat jokes? - let's relay this little story:
Adam Rose at the LA Times blog
has been informed that the famed Tommy Trojan statue at USC was dowsed in blue paint last night, presumably by some rival school who has blue as their dominant school color. Someone like, say, UCLA. The Bruins apparently took advantage of the USC heading up to Stanford this weekend, leaving their statue unguarded and allowing the merry pranksters to swoop in for the sliming. Well done. Let's get you caught up on a few games, shall we? As mentioned, Notre Dame is ahead comfortably 27-7 so you can call off the Charlie Weis Death Watch for another week. Unless you mean it literally, in which case it's best to keep him on it if only because of his belt size. Penn State has opened up their lead to 27-7, and Illinois is getting killed by Ohio State 30-13. But the big game of the day looks to be the Georgia-Auburn matchup, in which the Bulldogs lead 10-6. Let's go upset! The weird thing though is that all of these games have been giving HUGH a lot of conflicting emotions today. Confusion:
"Why is ESPN showing OSU-Illinois and Northwestern-Michigan when Ithaca is playing Cortland State?"
- Sean's Ramblings Somewhat-veiled contempt:
"Trying to watch Notre Dame and Navy? 2 minutes and you'll be BEGGING to watch Big Ten football again."
—www.midwesternbias.blogspot.com Not-so-veiled contempt:
"Rutgers and South Florida is the Big East game of the week. Or as many like to call it, the "Who The Fuck Cares Bowl"."
- drscooter19 Hatred of the geriatric:
my buddy went as a senior citizen for halloween and wore an actual Depends diaper...shenanigans ensue but i have a feeling this kinda thing happens all the time at ESPN now especially with Lou Holtz around.
- tepman16 And fear of the geriatric:
"If there is such a thing as the "Blue Royster Cult", does that make Joe Paterno the Reaper?"
- Alexander Holt But let's finish it off with this witty ode to casual racism:
"Well, I had the mute on and ESPN was showing clips of Asians dressed in yellow windbreakers dancing at the Illinois game, apparently attempting to stay warm. Not even sure what to say here, since a "Chief Irriniwek" dance joke would be inappropriate on several levels. Dammit, maybe I should work for an ESPN call center."
- Zombie Jesus X The man himself Enrico will be handling the rest of your HUGH day. Send him your quips! But be gentle, even if he tells you he wants it rough. He's lying.
Tommy Trojan feeling blue — victim of classic prank
[All Things Trojan]