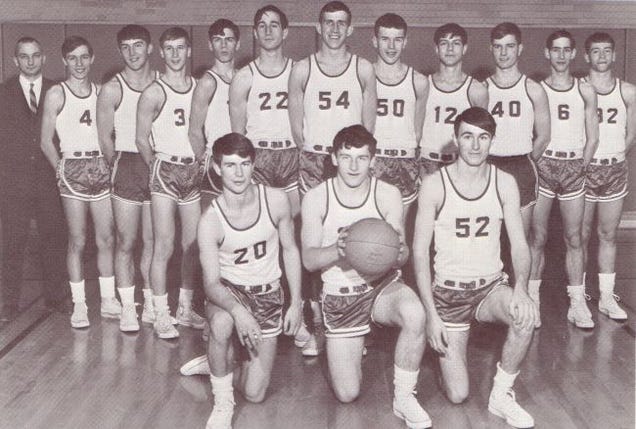 Just like
Friday's slate of game
, Saturday's left a lot to be desired in the way of "compelling storylines" or "competitiveness". (At least last night featured scrub teams with somewhat recognizable names.) In fact, of the six games to include top 25 teams, the closest contest was a 15-point win for your numero uno Tar Heels. But hell, we're here, you're here, let's stop messing around and recap the blowouts anyway.
(1) North Carolina 86, Pennsylvania 71
Playing without superstar Tyler Hansbrough, who's still recovering from his shin being stressed out from all of the relentless pressure of his massive course load, the Tar Heels went ahead and gave freshmen Tyler Zeller (18 points) and Ed Davis (14 rebounds) a chance to work off their Freshmen 15 with some extended playing him.
(11) Gonzaga 83, Mont St Billings 52
In this much-anticipated battle between a team whose
best
players
historically look like 70s porn stars and the college that sounds like a porn star, the former won handily behind the strong showing by their two 6-foot-11 behemoths, Austin Daye and Josh Heytvelt.
(12) Memphis 90, Fairfield 63
Memphis was actually
losing
for about half of the first-half, but then freshman Tyreke Evans decided to start taking the proceedings seriously, put up 19 points, and the rest, as they say, it's extremely boring history.
(13) Tennessee 114, Chattanooga 75
The Vols just couldn't stop helping one another out! Breaking their old school-record, Tennessee had 32 assists in only 43 baskets. We can all learn something from the Vols: sharing
is
caring. Except when its communism.
(16) Miami (FL) 96, Florida Southern 60
I'm not going to say much about this one, other than a plea that, if it hasn't already been established, we collectively refer to freshman DeQuan Jones lovingly as
"Dukie"
from now on. Deal?
(21) USC 78, UC Irvine 55
Freshman DeMar DeRozen left the DeCharge in his DeDebut with 14 points, forcing Tim Floyd to spend the night in his chambers, contemplating over candlelight how to keep him from DePulling the old "wham, bam, thank you ma'am" like O.J. Mayo did last year.