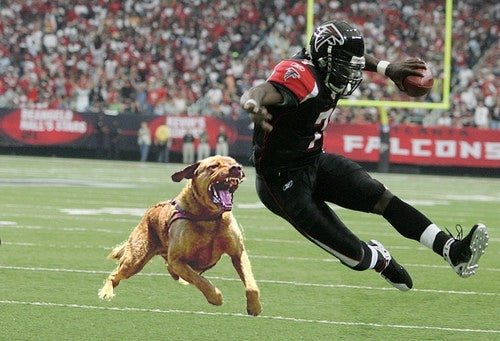 The most surprising news to come out of this Tim Dahlberg-penned update on the ongoing drama that is The Michael Vick Story is that he's scheduled to get out of jail next July . That's only 8 months away, people! Better start dusting off those old Ron Mexico jokes, post haste. You can't expect to hit the ground running when Vick once again walks among the free if you don't start warming up those joke muscles now! The other part of the article that has us intrigued is this little section, where Vick lays out his future plans:
Buried in the hundreds of pages of paper detailing Vick's financial woes the other day in federal bankruptcy court was the declaration that not only does Vick expect to be reinstated in the NFL upon his release but also believes he will "be able to earn a substantial living" playing quarterback once again.
No doubt Vick believes he's going to get signed solely because the media frenzy is going to make him a huge draw, large enough for an enterprising owner to take a chance on him. And listen, there's no doubt Vick is going to get people into the stands. The only question is if they'll be carrying protest signs.
Vick wants to play, but what team would risk it?
[AP]