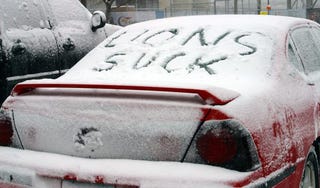 Lions 16, Panthers 24
Haha. Told you. Five minutes after posting the last NFL update that had the Lions up 13-7, the Panthers suddenly realized who their opponent was and decided to actually play a little football. By the way, DeAngelo Williams looks kind of like a stud all of a sudden. Let's bring you up to speed on the rest of the NFL action before the 4th quarters begin.
Bears 3, Packers 24
Hey, remember when Devin Hester was good and
worth that 100-speed rating on Madden?
Or when Lovie Smith was a good coach? Yeah, those were fun times too.
Vikings 13, Bucs 13
This is precisely the kind of game I'll be glad to avoid once the constant smoke from the LA fires finally blinds me, which should happen in the next 4-6 hours.
Giants 20, Ravens 10
Kicker Matt Stover set some kind of record for most extra points kicked successfully in a row or something, so that's something for the Ravens to hang their hat on.
Broncos 17, Falcons 13
Maybe that no-RB experiment of theirs isn't as crazy as it sounds. So far fullback Peyton Hills, really the only runner that the team wants to get a handful of carries, has two TDs.
Chiefs 13, Saints 27
Hey, look! Drew Brees continues to throw a ton of passes. He's got to be on pace for some kind of record or something!
Eagles 10, Bengals 13
This game is easily in the lead for the week's
George W. Bush Shocker
award. It's good to see Philly fans will still have something to boo.
Dolphins 14, Raiders 5
Who would've guessed the biggest winner in the whole Brett Favre fiasco would be Chad Pennington? Surely, Peter King has already asked this question.
Texans 20, Colts 23
The Colts finally take the lead with a 23-yard pass to Joseph Addai, but have it shoved right back in their face a play later when Steve Slaton runs for a 71-yard TD. Addai then returns the favor with a rushing TD. This one's getting wilder than the debate about the hotness of the Drinkability Girl.