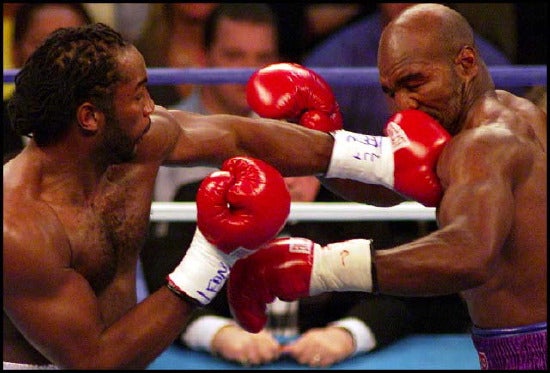 If you're still stepping into the boxing ring at 46 years old, something has gone horribly wrong in your life. Sometimes it means you're not talented enough to allow you to retire to a life of afternoon mimosas and luxurious silk shirts. Other times you stay in this long for a pure love of boxing, which means you're mentally unstable. For Evander Holyfield, who is taking on hairy Russian giant Nikolai Valuev for a heavyweight title next month, it's because he's in a boatload of financial trouble.
Holyfield agreed in October to give his 10-year-old son a $100,000 college fund while facing the threat of possible jail time and an auction on his home. In the summer he failed to make three straight $3,000 monthly child-support payments.
Maybe instead of agreeing to let a large Russian guy pummel him, Evander should dust off
Evander Holyfield's Real Deal Boxing
and update it for the PS3. It would sell dozens of copies on the nostalgia factor alone.
Evander Holyfield hopes to win major title in fight against Russian giant Nikolai Valuev
[Pravda]