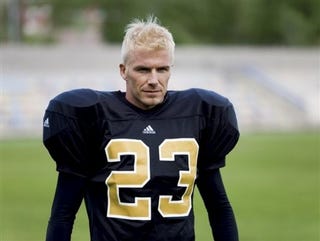 Michael Bertin writes regularly about soccer for Deadspin.
During last night's
60 Minutes
interview Steve Kroft threw out enough softballs to Barack Obama to make them both lesbians. I don't have a problem with this. Dude's life is about to get miserable, so ask him about daughters and dogs. Just don't ask him about college football. Apparently this is some sort of
political transgression
that causes massive hyperbole in otherwise reasonable people. But what's the point of being the most powerful man in the world if you can't do something completely self-indulgent? Isn't this the primary reason why any sane person would want to be president? When I'm in charge, all traffic lights in America start blinking at 11 pm. That's Day 1. So Obama is going to throw his weight around to get a college football playoff. Excellent. But if Mr, President-elect is going to toss around that 185 pounds to fix things, then throw it all around and fix everything. Make college football more like soccer. No, that's not a joke.First, make it a single table. All 120 teams. Play everyone once. Okay, that would be stupid, and two-plus years to navigate one season isn't very practical. But each of the major conferences should be 12 teams in one division. This isn't that big of a deal. The Pac 10, Big 10, and Big East are already like this. It's the 12-team conferences that are screwy with their split divisions and unbalanced schedules. Unsplit and balance them. Twelve teams. One division, play everyone once. No non-conference games. Really. Akron, Marshall, Fresno State, Cal Poly; Florida Atlantic, UTEP, Rice, Arkansas; Appalachian State, Troy, North Texas, Tulane. Those are the non-conference games of Wisconsin, Texas, and LSU respectively. Entering the season, maybe one of those games was decent on paper if Arkansas didn't suck so badly. For every OSU v. USC there are 10 shitty games that serve only to separate alumni from their money. Get rid of them. Second: Ties, ties, ties. As it is now, college football overtime is essentially a random outcome generator. It's exciting, but it has almost nothing to do with the game of football. Plus, whoever decided that a tie wasn't a perfectly acceptable result? One of the
greatest games ever played
ended in a tie. And Nebraska might have
cost themselves a National Championship
by not taking the tie. Sure, you play to win the game, but sometimes you don't. It's not like kissing your sister. That's incest and that's fucking gross. Ties are more like winning $1 on a scratch-off ticket, but losing three hours of your life in the process. Third, and most importantly, introduce relegation into American sports. Word is, Mr. President-elect, that you're a West Ham fan. So I'm guessing you're familiar with the concept of relegation, if not you will be soon. West Ham is so screwed right now that the FA wouldn't even let them
be nice to cancer patients
. And that's
the least
of
their problems.
Anyway, for the non-soccer fans, relegation is the mechanism by which bad teams get dropped to a lower league. In baseball, it would be like taking the Royals and punishing them for being so inept by making them a AAA club. There is already a de facto hierarchy in college football. Just by distinguishing between BCS and non-BCS conferences, the college presidents have created haves and have-lesses. So just make it formal. Pair up each of the BCS conferences with a partner non-BCS conference: the Big 10 and the MAC; the Big-12 and CUSA, the Pac-10 and the WAC, etc. At the end of each season, the worst team in the "BCS" conference get relegated down to it's non-BCS partner, where the best team in the latter gets promoted to the former. Soccer fans already know that the fight at the bottom of the table is every bit as awesome as the one at the top. For the first time since the inception of the Big 12, Baylor can now play meaningful football in November. Finally, allot teams to the playoff based on the strength of the conference. The top leagues in England, Spain, Italy, they qualify four teams into the Champions League. Latvia sends one. Why? Because it's Latvia. The best Latvian team would struggle to be competitive in the EPL, Serie A, or La Liga. Similarly, Cincinnati, as the clubhouse leader in the Big East, they wouldn't finish better than 5th in the Big 12th South this season. In fact, the Big East should probably be dissolved as a football conference, and those teams redistributed. It actually makes this whole thing easier. That leaves you with five major conferences (Big 12, Big 10, Pac 10, ACC, SEC) with 12 teams, and five partner conferences (CUSA, MWC, MAC, WAC, Sun Belt) with 12 teams. That's 120. And that's the current number of FBS teams. Elegance is more important than the Big East. Sure, there are issues to be worked out—how do you rank the conferences if there are no inter-conference games, how do you shoehorn a 6-win Notre Dame team into the playoff, how do you make up the loss of revenue from the 12th game, etc.—but that's what smart people are for.