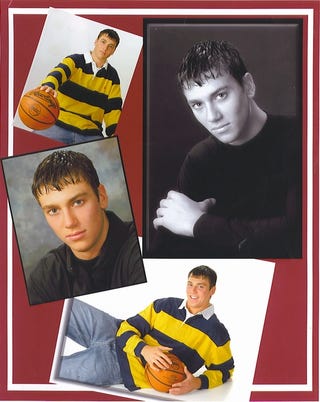 It's a bit late, but college basketball is finally getting the all-inclusive nationwide blowout spectacular that the opening of a season deserves. ESPN is currently in the midst of a 23-hour amateur hoops marathon, complete with nine games, a big recruiting announcement and more Andy Katz spots on SportsCenter than the FDA normally allows. But the crown jewel awaiting at the finish is the primetime Kentucky-North Carolina tilt this evening. That matchup sounds awesome, but is slightly diminished by the fact that Tyler Hansbrough, the pretty boy to the left, is
simply not tough enough
and Kentucky
just stinks
. Seriously, VMI at home? It's the second straight year the Wildcats have laid a gigantic goose egg in their home opener and it is not an encouraging sign for Billy Gillispie. Meanwhile, Psycho T jumped into another pool or something and will miss his second straight game with a dusty crotch. You're paid to be gritty and fearless, big guy, not sit on the bench and wave to your girlfriend in the band. If, indeed, you even have a girlfriend, which I highly doubt at this point, especially after seeing this high school yearbook portrait. Were the
lasers
unavailable? (Seriously though, I shouldn't judge—we all have one of these pictures in our past, don't we? So let he who would voluntarily put his or her own senior portrait on the internet, cast the first comment.) Anyway, since you have been undoubtedly stuck at work, sleeping, or both. Here's what happened so far—Memphis beat UMass, then got Xavier Henry (the top prep in the nation and brother of Tiger C.J. Henry)
to give them his verbal commitment
live on SportsCenter. St. Mary's suddenly became everybody's tournament "sleeper" team, Hawaii held off a pesky Idaho St. team and then Dick Vitale gave the entire Big East an automatic bid. Also, 93-year-old Hall of Fame coach Pete Newell
politely passed away
on Monday as a final tribute to ESPN's dedicated coverage. Talk about always putting the sport first. Up next: Drexel is finishing off Penn right now, then Kansas begins its title defense against Iowa at noon. What's that?
Lady
Jayhawks and
Lady
Hawkeyes. Oh. Very sneaky, sis. There's lots more after than and and someone is actually
live blogging the whole thing
, just because they can. Can you hear the footsteps, Suss? Sure, it's tough to actually watch most of this hoopsgasm, but I applaud the effort to give a nice big celebratory shove-off for the college basketball world. Twenty-four straight hours of hoops coverage is the kind of thing that Barack Obama would support in this new administration and who are you to stand in the way of hope?
College Basketball Scoreboard
[Yahoo]
ESPN TV listings
[ESPN]
Hansbrough to miss Kentucky game
[SBR Forum]
Virginia Military Institute tops Kentucky, 111-103
[AP/Google]
Henry a perfect fit at Memphis
[ESPN]
Former Cal coach Newell dies at 93
[ESPN]
ESPN Marathon of Hoops Live Blog, Part II
[Rush The Court] P.S. As a special treat, I updated the lame-ass
Deadspin hoops preview
with a few more teams. Don't say I never did anything pointless for you.