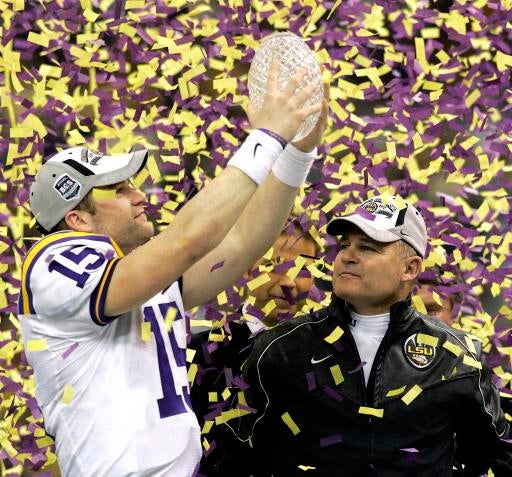 Since 2007 Fox has broadcast the BCS Games. Sure, this was a little awkward because Fox didn't carry college football on the network during the regular season, but it worked. Kind of. Now, ESPN has done what ESPN usually does — gone and outbid the competition for the rights. (Doesn't it kind of make you wonder why ESPN didn't buy them initially?) Fox paid $320 million to broadcast the games from 2007-2010. ESPN is prepared to pay more. And now, like all bidding wars, the two parties are sniping back and forth at one another . From CBS Sports:
"We are currently in the process of finalizing with ESPN a television rights agreement for the BCS games that will be played January 2011 through January 2014," BCS coordinator John Swofford said. "ESPN has been a great supporter of college football and we are excited to be completing a future deal that will give them an even larger presence in the postseason."
This, of course, has not endeared ESPN to the head honchos at Fox. "Even with today's vast economic uncertainties, Fox Sports made a very competitive bid to keep broadcasting BCS games free to every home in America, one that included a substantial rights fee increase, and certainly as much as any over-the-air network could responsibly risk," Fox spokesman Lou D'Ermilio wrote in an e-mail. What does all this mean? That ESPN now controls every major bowl game in America. Yep, ESPN has a monopoly on bowl season. Guess what that also means? No playoff until 2014 at the earliest. And even then it's not likely. Why? Because ESPN needs the programming content of more bowl games than a college football playoff would ultimately allow. Yeah, 34 bowls might suck for the average fan, but that's perfect for a voracious sports programming network. Don't believe me? With this deal ESPN/ABC will now televise
29
of the 34 match-ups.
Check it out for yourself at this year's bowl television schedule
. Go ahead and plug in ESPN for every Fox telecast except the Cotton Bowl. Bowl season monopoly—thy name is ESPN. At least we know that ESPN always represents the best interests of sports fans. I'm sure the network would
never
stand in the way of a playoff when the New Mexico Bowl is already scheduled. What else does this teach us? That college presidents and the BCS can't claim they're doing this for any reason other than more television money. After all their pompous talk about academics, in the end, it's all about the money, yo. Fuck all of you.
Fox opts out of BCS after 2010, ESPN close to finalizing deal
[CBS]
2008 Bowl Television Schedule
[College Football Bowl Schedule] UPDATE: This deal was already in place back in April for the BCS to continue through 2014. ESPN just simply "bought" those rights, but will just own the television rights, not the BCS. But BCS coordinator John Swofford said he's willing "to listen" to President elect Obama's idea for a playoff. [
ESPN
]