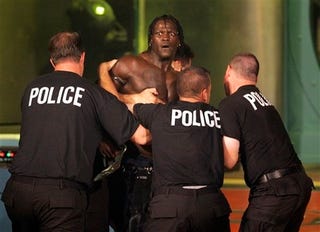 •
Wait, Is That Pacman Jones' Entrance Music?
Adam Pacman Jones is back — a fact which absolutely thrills this particular writer: "The NFL's poster child for foolish behavior is returning to the Cowboys. That's right, NFL commissioner Roger Goodell has reinstated Pacman Jones, giving him yet another opportunity to embarrass the NFL, the Cowboys and his family." [
Dallas Morning News
] •
Just Call Him Hanging Chad
. The Cincinnati Bengals deactivated receiver Chad Ocho Cinco for tonight's game against the Steelers, so adjust your fantasy rosters accordingly. The reason: Violating a team rule. That takes in a LOT of territory, especially when you're talking about Ocho. But that's all the team's saying. T.J. Houshmandzadeh will get even more catches, I suppose. [
NBCSports
] •
Oh Sweet Merciful Baby Jesus, Make It Stop
. Speculation has resumed about Brett Favre's retirement plans, according to the New York Post, which writes: "This offseason figures to contain plenty of drama surrounding Favre's future." For his part, Favre says he "has absolutely no idea" if he's coming back. [
New York Post
] •
Role Model, Indeed
. Spotting a homeless man outside of a Cinemark Theatre in Dallas, Cowboys quarterback Tony Romo paid for the guy to come inside and sit with him and a friend for the movie. The featured selection?
Role Model
. Bonus quote:
Romo, who confirmed the story but didn't want to elaborate, waved Doc over to sit by him and his friend. Doc sheepishly mentioned that he hadn't showered in a few days. "Don't worry about that," Romo said. "I'm used to locker rooms."
[
Dallas Morning News
] •
X-box, Here I Come
. Terrell Owens reports flu-like symptoms, Dallas Cowboys excuse him from practice on Wednesday. This can't be considered bad news for the 49ers, who play the Cowboys on Sunday. [
Star Telegram
] •
Driver's Father In Trouble
. The father of Green Bay Packers receiver Donald Driver was involved in an altercation with Houston police on Wednesday and is in the hospital, family members said. Police said Driver was arrested for outstanding traffic warrants and was found to be "unresponsive" upon his arrival at jail. Paramedics transported him to the hospital, they said. Key graph from story:
As they beat him and forced him to swallow something, the officers told Marvin Driver Jr. he was "going to see Jesus," according to relatives and community activist Quanell Evans, who identified himself as Quanell X.