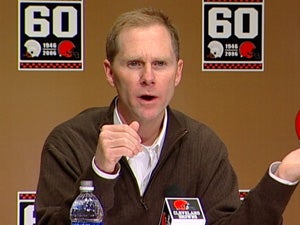 Well, that didn't take long. Browns GM Phil Savage admitted he did in fact send a nasty email to a fan that was posted here last evening. According to the AP , Browns Coach Romeo Crennel was the one who confirmed:
Crennel says he understands Savage's frustration and spoke with him Thursday about the incident. Crennel says it's unfortunate that it happened, adding "in tough times, tough things happen."
So, ignore
my cautious updates
. And apologies to any Browns' interns who I may have implicated in the follow-up. But, honestly, you can almost understand the level of frustration that Browns' fans feel. What I can't understand is how a GM could fire off something like that to a random person who ultimately helps keep you employed — especially after a win. From now on, Phil, you probably should hire an intern to handle your email correspondence with fans. Oh, and big ups to
Cleveland Frowns
for keeping everybody honest. You're doing God's work, sir.
Browns GM Savage Sent E-Mail Containing Expletive
[AP]