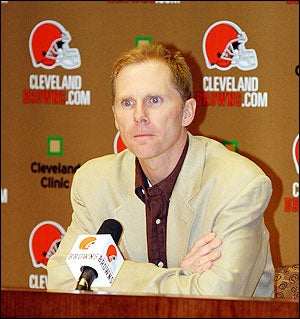 Well. Who would've thought a story like this could get so much attention? And, hey — even ESPN.com took off the web censors and let the AP's "as first reported by Deadspin.com" into its online copy. I'm flattered that they acknowledge our uncanny ability to carefully sift through our inbox. And now, Phil Savage has officially fessed up and apologized for using the dreaded F plus ampersands and exclamation marks to respond to an angry Browns fan:
"It happened after the game," Savage in an e-mail to The Associated Press. "There had been previous e-mails from him over the months and enough was enough. We have both apologized to each other since. The Browns' fans have overwhelmingly been supportive of me over the past 3-plus seasons and I appreciate that greatly."
Indeed, they both did apologize to each other and had a friendly exchange which can be read in its entirety
here
. Now, since this made ESPN.com — will they have to reference Deadspin on SportsCenter if it makes their story log? I bet Stu Scott will pass that one over to his co-anchor.
Browns GM Savage Apologizes for Expletive E-mail
[AP]