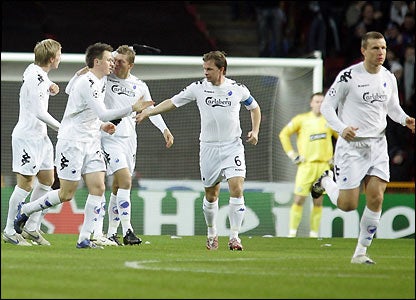 In America you can't even have porn stars on your fantasy football team, but the attitude is a bit different in Denmark. Players for FC Copenhagen, a Danish Superliga team, have been promised two porn films for every game they win, courtesy of one of the team's sponsors, sex movie distributors BN Agentur (the team's mascot approves ). From The Daily Record :
Laursen, Sionko and team mates have risen to the challenge — winning nine of their first 13 games to go one point behind leaders Odense. Copenhagen, known locally as FCK, screen the films at their training ground — although they refuse to reveal who gets to keep them afterwards. Club chairman Flemming Ostergaard said: "As far as I am concerned, there is nothing wrong with it."
So every team meeting is a wild bachelor party; a concept which I have the feeling Mike Singletary might not approve. But my question is, are all of FC Copenhagen's movies sports-themed? And how many of those could there be?
Bang the Bum Slowly
,
The Unnatural
,
Brian's Dong
... OK, I give up.
FC Copenhagen Reward Players With Adult Films
[The Spoiler]