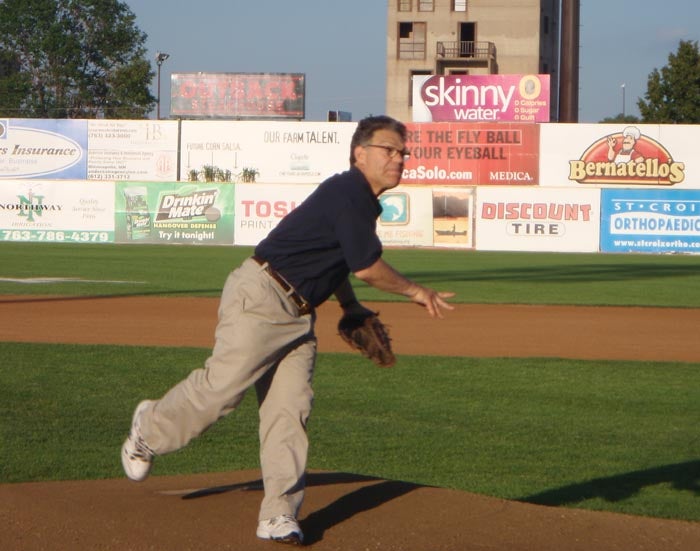 Here's comedian and senatorial candidate Al Franken throwing out the first pitch at a St. Paul Saints game earlier this season . It was a wise move on Mr. Franken's part, considering that the Saints' attendance that day was 12,450, and he's currently trailing in his U.S. Senate recount with Norm Coleman by only 136 votes. This appearance may have won him the election. At any rate, the Saints are proudly mocking the situation with their first promotional giveaway of the season: The Franken-Coleman Recount Doll (as seen below). Due to the citizens of the Northstar State being unable to fill in an oval with a No. 2 pencil, the U.S. Senate race between Coleman and Franken is deadlocked at 42 percent each, facilitating a recount. With a little less than 50 percent of the ballots re-tabulated, Coleman's lead is down to 136 votes. And so the Saints, an Independent American Association baseball team, have their first promotional idea for the 2009 season.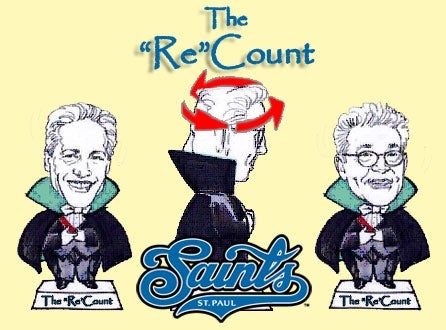 The figurine will consist of one head with Coleman's face on one side and Franken's on the other. The body of the doll features that of the famous Sesame Street Count (Count von Count) with a suit, bow tie and cape. The head will spin reminding fans of the dizzying experience that has been this state's U.S. Senate race. "We realize that by the time we hand these out in May, the election will, hopefully, be decided," Saints director of media relations Sean Aronson told Deadspin. "But fans are going to want these as collector's items, just as in past promotions. We also came up with the Senator Larry Craig Bobbleleg Doll during the offseason."
Yes,
that was a classic
. The first 2,500 fans through the gates on May 23 for the Saints game against the Sioux Falls Canaries will get a doll, with me right behind on eBay. There will also be a coloring competition where the winner will be the person who can correctly color inside of an oval shaped object. And following the third inning, no matter the score, the Saints will claim victory. Of course the whole reason this race is tied in the first place is due to Independent Senate candidate Dean Barkley, who siphoned off 12 percent of the vote. Barkley had this to say about the Saints' promotion:
"The Saints have really outdone themselves with this one. I am glad, however, they decided not to make this a talking doll. Norm-Al will look great on someone's shelf — silently."
Awesome. Let's just skip the other two and put him in.
Saints Will "Re"Count Coleman-Franken Race
[St. Paul Saints]
Day 3: Recount Resumes With Coleman Still In Lead
[Minnesapolis Star Tribune]