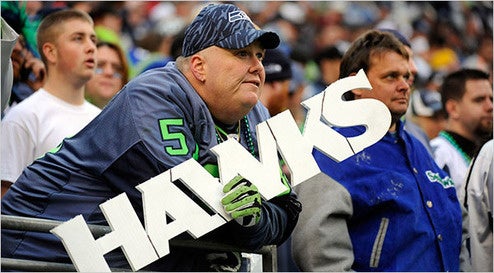 "Lorin "Big Lo" Sandretzky has gone through more than most. A former strip-club bouncer, he has been beaten and stabbed and watched three people die in his arms. He nearly died himself on three occasions during an emergency operation and won the lottery. In the last year, he had two additional emergency surgeries to remove abscesses in his leg, was told he had diabetes and lost 134 pounds, bringing his weight to 419." It gets worse—he's also a die-hard Seahawks fan . Yep, things are pretty grim for sports fans who live and root in Seattle. Their stolen NBA team taunts them from another city, their baseball team spent $118 million to get 101 losses, the Seahawks have lost their stranglehold on the worst division in pro football, and the local university's squad is 0-10 heading into their big in-state rivalry game this weekend ... and they're the favorite . If that wasn't bad enough, the city's biggest sports personality was murdered (and "Big Lo" doesn't seem too healthy either.) Cleveland and Buffalo obviously weep for their painful losses, but it's pretty easy to see that this winter in the Pacific Northwest is going to be even more sad and gloomy than usual. Won't someone think of the children?
[Brian] Robinson, the Save our Sonics co-founder, remembered the time he spent in the Army bragging about and betting on Seattle sports. It became part of his identity, one he passed on to his two children. The other day, his 5-year-old daughter said, in all seriousness: "All our teams lose. When you were a little boy, did they win?" Robinson said: "We are at real risk of a whole generation of people not enjoying professional sports. It might dead-end. And I don't know what that could do to our sense of community."
Well, if the alternative is rooting for the Mariners the rest of her life, I'd say your daughter got off lucky.
At a Time of Loss, Seattle Fans Hold On to Hope
[New York Times]
With the Apple Cup just days away, there are stories that must be told
[Cougars Examiner]
The annual selection of Wazoo jokes
[Huskies Examiner]
Has Seattle sports reached rock bottom?
[The Big Picture]