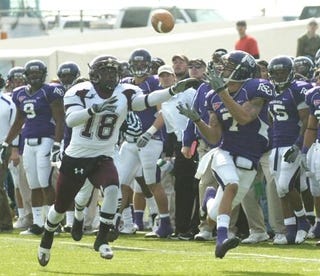 Assuming that the band plays the school fight song following every touchdown,
this tuba player
most likely fell over dead around about the middle of the third quarter on Saturday. It was Abilene Christian vs. West Texas A&M in the second round of the NCAA Div. II football playoffs, with Abilene pulling out the victory, 93-68. Yes, a college football team surpassed Oklahoma's point total on Saturday, and still lost by 25. Jumpin' Jehoshaphat. Video evidence of every touchdown, if you have the time, following the jump. Hey, I went to the restroom and missed seven touchdowns! Fun fact: Abilene Christian's men's basketball team played host to Huston Tillotson that evening and could not outscore the football team, losing 92-90.
Click to view
ACU scored on every possession except its second of the game, which ended with a missed field goal, and its first of the second half. Even that worked out as WT's Raymond Johnson muffed Sean McGlothlin's punt and ACU's Josh Wise recovered, and Malone hit Knox for a 27-yard score four plays later. West Texas A&M scored touchdowns on its next two possessions to stay within 10 points, but ACU responded with scoring drives of 36, 39 and 39 yards to push the lead to 72-54 late in the third quarter.
ACU Shatters Records In Offensive Explosion
[Abilene Reporter News]