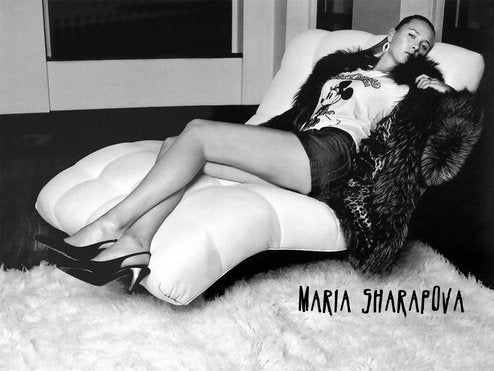 Each year, ESPN "The Magazine" trots out special issues like the goofy jocks-are-in-charge issue one when they let a professional athlete play editor for the week. (Remember one year Matt Leinart did this . Yeah, it'll probably be a long time before he gets on the cover again.) This year the mag has enlisted the help of grunty, long-legged tennis player Maria Sharapova to put her own distinct editorial flourish on it. According to the email sent out to the ESPN magazine staff, she's, not surprisingly, going with a fashion-oriented issue — but could use some more help:
Folks, Maria Sharapova is going to be the "Editor-in-Chief" of our Athletes Issue. She accepted this responsibility with great enthusiasm and would like, for an issue, to focus her efforts for the Magazine toward revamping the fashion-sense of America's favorite athletes. She has two ideas: -The make-over. She wants to redo the style of LeBron (even though he only wears Ralph Lauren's premium label), Carmelo Anthony, Reggie Bush etc. -The Best Dressed/Worst Dressed list. It's debut in our pages. Why am I going on about this? Because we need to come up with some other things she can do in addition (or in place of) the above. Ideally, some of you have ideas that put to use her interest in style and applies it to our pages. I'd love to hear any and all thoughts on the matter. There are no stupid ideas. Please take a few minutes and ask yourself "If Maria Sharapova were my boss for a day, how could she make the magazine better?" And then send me what you come up with. By Wednesday, please.
I predict there will be a lot of "Less words,
more creepy up-skirt shots of Sharapova
" suggestions from the staff for the sake of job security. Gotta move those suckers off the newsstands if they're going to survive the downturn in ad pages.
ESPN The Magazine
[ESPN.com]