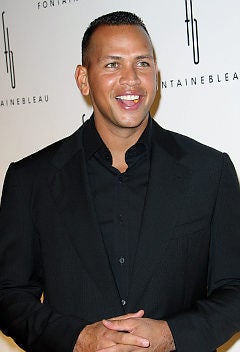 Uh oh, guess who was busted for skipping his Kaballah classes? One Mr. Alex Rodriguez is in so much deep shit with Madonna it's not even funny. MSNBC is saying that the Yankee has cancelled private classes with "spiritual leader" Eitan Yardeni, who was supposed to guide A-Rod around the bases of cosmic Jewishness. Madonna is not amused.
"He hasn't even finished Kabbalah 1 (the introduction to the study of Kabbalah) and the majority of the time he's spent with Yardeni so far was for counseling, not study," said MSNBC's unnamed source. This is certainly off-putting to Madonna. "She did drag Guy [Ritchie] into kabbalah; she's doing the same now [with Rodriguez]. But he's bored. He's basically a kabbalah school dropout."
Perhaps A-Rod finally read the fine print. According to Wikipedia, Kabbalah is a form of Jewish mysticism in which it is believed that cosmic forces control everything, even the AL East. Sample teaching:
It is not recommended that men masturbate, as the sperm are abandoned souls that become demons. When a woman's insides come into contact with a man's sperm, they are coming into contact with the essence of their energy and are affected by this for several years.[8] The man should not orgasm before the woman, as it injects selfishness into the act of love making.
And now Rodriguez is even getting grief over
where he'll spend Thanksgiving
. Ha. Welcome to the club on that one.
Kabbahlah Coming Between Madonna, A-Rod?
[MSNBC]