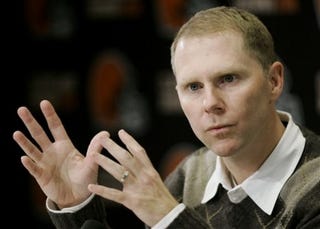 Browns' owner Randy Lerner spoke out about the job security of coach Romeo Crennel and GM Phil Savage
in a rare interview today
and gave a little bit of a glimpse into what he's looking for leadership-wise for the Browns in 2009. Obviously, he didn't give his current coach or GM a ringing endorsement for next season and even went as far to openly question how the team that was 10-6 last season could have fallen so far. And, of course, Savage's
little email incident
popped up in the conversation. Needless to say, Lerner was not impressed:
Lerner was troubled by the e-mail situation, but said he understands Savage's frustration at the Browns' startling fall after just missing the playoffs in 2007. "I was embarrassed, probably not unlike Phil was embarrassed," Lerner said.
If Savage does lose his job this season, it appears more and more that this e-mail will be one of the only things remembered from his time as Browns' GM. Sorry. ****** TONIGHT: Watch Sussman liveblog the Ball State game for Jason Whitlock's amusement. TOMORROW: Well, think of something fun to do. It'll be a pretty relaxed day over here. I'm running "Deleted Scenes" tomorrow so it doesn't get lost in the Black Friday shuffle. There will be no Waxing Off this week, but it will be back next week with Weintraubian resiliency. If you, commenters, would like to share what you're thankful for, please
send me an email
with your commenter name and I 'll post them like all quicklink style. They can be sincere, sarcastic, obscene, etc. Do your best to entertain, as you always do. Let's get in the holiday spirit. Thank you for your continued support of Deadspin.