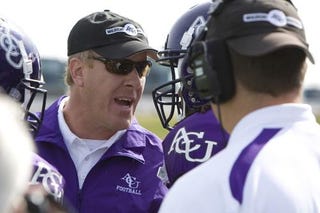 Stuff you may not know about Div.
1-AA
II Abilene Christian University: Their quarterback, Billy Don
Madison
Malone, was once the heir apparent to J.P. Losman at Tulane, and some says he's better. Wilbert Montgomery, who still holds the franchise rushing record for the Philadelphia Eagles, is a proud alum. And two players on their current roster are the younger brothers of two very famous Big 12 quarterbacks. One thing you probably did know: The Wildcats beat West Texas A&M 93-68 in an NCAA Division II second-round playoff game on Saturday. As even Christ himself might say, that's a lot of (expletive deleted) points. Yes, Fast Times at Abilene Christian, the small Texas university with the big offensive stats. The first time I called Wildcats head coach Chris Thomsen on Monday, his voicemail was full; clogged with congrats and woo-hoos from friends and former players who couldn't quite believe a college football team could keep the accelerator down that long. In fact, Thomsen's football team outscored the basketball team, who played later that evening on the same campus and only got 90. Abilene Christian is
led by a quarterback, Malone
, who was recruited by just about every big school in the nation, but settled on Tulane because that's where his brother played. But a vascular condition that doctors at first thought was life threatening forced him to sit out his first two seasons there, and he ultimately transferred when Tulane coaches — and more importantly, lawyers — figured it was too risky to allow him to take the field. Malone, who now has a clean bill of health, was 16-of-25 for 383 yards and 6 touchdowns on Saturday, all of the scoring passes to different receivers. Bernard Scott ran for 292 yards and six touchdowns, and had one receiving TD. The teams combined for 1,531 yards total offense, with ACU getting 810. It was the highest-scoring playoff game in NCAA history. All of this is rather perplexing to head coach Chris Thomsen, a meat-and-potatoes Texas football man who idolized the straight-ahead, bruising players of the 1970s, and would rather club you with determination than dazzle you with guile. I talked with him on Tuesday as his team prepared to play Northwest Missouri State in the second round of the playoffs on Saturday.
DS: I guess we can start with this: What the heck happened? I'm saying heck because I know you're a Christian University.
CT: We have a bunch of talented, explosive players, and it was just one of those games. We executed well. The game tempo was unbelievable; the other team was running hot as well. But in the third quarter [West Texas A&M] went with a couple onside kicks, and we recovered. That let us pull away.
DS: Would you rather coach a game like that, or a 7-3 slugfest?
CT: I'm an old offensive line coach. I prefer a steady running game and play action and grinding it out. Like those Dallas Cowboys teams of the 1980s. But the college game has changed; it's not geared to that any more. And we have an offensive coordinator, Ken Collums, who calls all the plays and who is very talented. We coached together at Central Arkansas.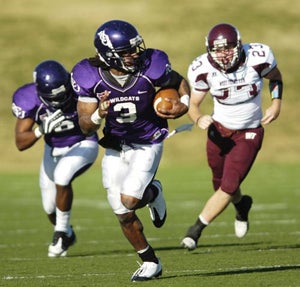 DS: Tell me about Billy Malone
. CT: We have some good key players and are blessed with a great player at quarterback. He's a great guy, a leader and a family man. He has a wife and two daughters. He's going to get an opportunity in the NFL, and it couldn't happen to a better guy.
DS: You have a couple of other big names on the roster, I see.
CT: Well, our running back Bernard Scott is also a pro prospect. But the
two players you're referring to
are (receiver) Chance McCoy, the younger brother of Texas quarterback Colt McCoy, and (quarterback) Clark Harrell, younger brother of Texas Tech quarterback Graham Harrell. Both are youngsters, part of our future.
DS: The school has produced some notable players over the years.
CT: Wilbert Montgomery, Clint Longley, who played for the Cowboys. Johnny Perkins (receiver for the New York Giants), Grant Feasel (center, Seahawks), Cleo Montgomery (receiver for Raiders, Browns, Bengals), Dan Remsberg (offensive lineman, Broncos), and
John Bradshaw Layfield
, who wrestles in the WWE. They all went here.
DS: What's special about Abilene Christian?
CT: It's juts a great environment. They care about kids. They care about creating great students and allowing them to become great people; they go the extra mile here.