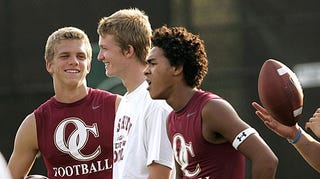 Big game on Friday night in Westlake Village near Los Angeles, as Oaks Christian High (13-0) takes on visiting Gardena Serra (13-0) in the Northwest Division championship game.
Arrive early before the Montana, Gretzky and Smith families take all the good seats.
Pictured here are Nick Montana, Trevor Gretzky and Trey Smith, whose fathers you may know. Montana, a junior, has quarterbacked the varsity (Gretzky and Smith are sophomore receivers) to within one win of the school's sixth straight Section championship.