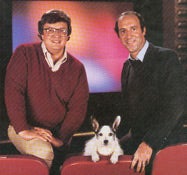 When I was in high school, I wanted to be Roger Ebert when I grew up.
I'm not sure this is a particularly healthy person for a 15-year-old to emulate. Nothing against Mr. Ebert, who will probably end up being the most important journalistic voice in film of this century, and probably the last one as well. (And seriously, if you're not reading his non-film work, you're missing out as well.) But I probably should have wanted to be Ozzie Smith, or Kevin Costner, or Bruce Springsteen, or someone who actually did something rather than writing about people who did something. The only reason I wanted to write was because I wanted to write about movies.
I blame my friend Tim. Back in Mattoon, we were the two nerdy smart kids who were way too into Woody Allen, the Cardinals and Kurt Cobain. Because the best movies rarely came to Mattoon, we'd have to drive the 50 miles to Champaign to see the "arthouse" movies like Malcolm X and Howards End. This led to a tradition, started in 1991, in which we would wait until the night before the Oscar nominations came out in February — we needed that extra couple months to catch up on all the late December releases — to give each other our top 10 movies of the year. This ritual lasts to this day, and we even used to publish them on the old Black Table site. (Here's 2002, 2003 and 2004.) Fellow Black Table editor A.J. Daulerio, who never really did much with himself after the BT, loved to make fun of us for this, and he labeled the yearly festivities "Dorkfest." Tim and I both call it that now, and, still, we do it. The nominations come out January 22 this year; we'll be on the phone for four hours the night before, giving each other our lists, debating and generally being, well, dorks. It's awesome.
Tim ended up actually having a career as a film critic — you can see a full archive right here — but, sadly, I ended up going another direction, and now I write fart jokes about sports for Web sites, magazines, newspapers and napkins. I have to admit, if someone told me I could settle down somewhere and just write movie reviews and books, I'd be a happy fellow. Of course, every film critic in the country in the country is getting laid off, so that doesn't seem like a viable career option. Looks like I'll be sticking with the fart jokes.
But that's not gonna stop me from writing about movies. As mentioned a few weeks ago, I've started a fancy new "official" Website, and a large section of it is going to consist of movie reviews. You can see a full archive here, but so far, I've hit Che, Gran Torino, Milk, Rachel Getting Married and The Wrestler. (This week, Benjamin Button and Revolutionary Road!) It's completely self-indulgent, and god, I can't stop.
It probably goes without saying that I put more time into those movie reviews — which are probably seen by 20 or 30 people, tops — that just about everything else that I do. I miss it. I really did want to be Roger Ebert. Maybe there's still time. Until then, though ... please read my movie reviews. (And Tim's.) You're granting a dying boy his last wish. We want to make Mattoon a veritable farm system of film critics.
Hell, it sure beats interviewing naked athletes for a living.
32. Detroit Lions (0-14). Call me crazy, but don't you kind of get the feeling the Lions are going to win one of these last two? They've showed too much life the last couple of weeks. My money's on that Green Bay game in Week 17, in front of a discouraged, cranky Lambeau crowd. That just seems like the perfect way to end the first season in Green Bay without Brett Favre: Losing at home to a team that's 0-15.
31. St. Louis Rams (2-12). Bernie Miklasz made a great point about Steven Jackson: Wasn't this guy supposed to be great by now? Obviously, the Rams are a disaster, but Jackson has revealed himself as one of those guys who's perpetually on the cusp, but, all told, not much more than mediocre. Do you realize that this is fifth season? That's a lot of tire tread on running backs like him. Anybody else get the sense he might be playing for the Patriots next year?
30. Oakland Raiders (3-11). I've been trying to come up with the best visual interpretation of what the intra-divisional battles in the AFC and NFC Wests have been, and I think I've found it, via Jeff Miller's site The Trunk. That's right: It's squirrel fights!
This is from "Etosha National Park in Namibia." North American squirrels are such pussies.
29. Kansas City Chiefs (2-12). Count me among the folks devastated that the Arena Football League is shutting down for a season. You have to love a sports league that, in its "we're trying not to go bankrupt here" press release, quotes Jon Bon Jovi. Back in the day, when The Mighty MJD was doing weekends around here, his recaps and dissertations on Arena Football — it gets pretty boring on weekends in February — not only inspired me to love the league, but even buy a video game. (It's less fun than it seems; I just wanted to knock guys into the stands, but it's quite hard.) I hope it comes back soon, though probably not as much as Mike and Mike do.
28. Cincinnati Bengals (2-11-1). Palin watch! OK, whatever your thoughts on our would-be vice-president — and apparently everybody has thoughts, because I can't get on the Web for more than five minutes without somebody telling me Sarah Palin's IQ — I have to say, setting fire to her church is pretty far over the line. I hope they catch that guy, and I hope he looks like Beavis. Afterwards, Palin apologized to the Wasilla Bible Church — I think that title is missing a word, or a modifier, or something ... not that I should talk — for the "undeserved negative attention" that might have led to the incident. I would have to think that it's a bad sign when you run for vice president, and people react so strongly to you that they try to burn down your church. And then you apologize for it! I bet Sarah Palin's ready for 2008 to get over with.
27. Cleveland Browns (4-10). So, to recap, the Cleveland Browns, chosen to be on national television a shocking five times this year, actually went 2-3 in those games this year. All told, that's not so bad! It was the 2-7 in the Sunday afternoon games that got them. That's that problem with these guys: They only play their best under the brightest spotlight! Makes sense! Unfortunately, that means they're going 1-15 next year.
26. Seattle Seahawks (3-11). Look out, Jets: These guys are feistier than you realize, and they're going to be going all out for Mike Holmgren. You know, I'm a big fan of Mike Holmgren's move this year: Announce you're retiring at the end of the season, let everybody tell you how much they love you, and then, after a terrible year, with two games left, imply that, hey, now that I think about it, I might be up for coaching again after all. I think this is called The Keith Jackson.
25. Green Bay Packers (5-9). I'm starting to think the Web editors of the Green Bay Press-Gazette are putting these stories up on Mondays and Tuesdays just to mess with me. The top story on the Press-Gazette's site as I type this? "De Pere boutique aims to 'save you time.'" It's about "a boutique offering gourmet foods, gift baskets, entertaining essentials and gifts." I think the most brilliant part is how they put "save you time" in quotes, like this was a particularly insightful statement made in interview. A few suggestions down the line:
BAKER LOOKING TO "MAKE DIFFERENT KINDS OF FOOD."
COP HOPES TO "KEEP STREETS SAFE."
WRITER WANTS TO "TYPE WORDS FOR YOU."
LOCAL MAN "WANTS YOU TO GET IN HIS VAN."
24. Buffalo Bills (6-8). Difficult to sum up life as a Buffalo Bills fan over the last 10 years or so better than that play at the end of that Jets game, isn't it? As dumb as Dick Jauron's call was, I must admit, I said, out loud, before that play, "You know, since the two-minute warning is coming up anyway, they might as well throw a pass here. The Jets don't have to call time out anyway." Combine that with my lack of understanding what a trap play is, and I'm starting to think I maybe shouldn't be a football coach.
23. Jacksonville Jaguars (5-9). I tend to enjoy Christmas, partly because I get to go home and see my family and partly because watching tourists fall down trying to skate at Rockefeller Center is an awfully pleasant way to spend and evening. You know who doesn't like Christmas? Christopher Hitchens! In a story headlined "The moral and aesthetic nightmare of Christmas," he writes:
As in such dismal banana republics, the dreary, sinister thing is that the official propaganda is inescapable. You go to a train station or an airport, and the image and the music of the Dear Leader are everywhere. You go to a more private place, such as a doctor's office or a store or a restaurant, and the identical tinny, maddening, repetitive ululations are to be heard. So, unless you are fortunate, are the same cheap and mass-produced images and pictures, from snowmen to cribs to reindeer. It becomes more than usually odious to switch on the radio and the television, because certain officially determined "themes" have been programmed into the system. Most objectionable of all, the fanatics force your children to observe the Dear Leader's birthday, and so (this being the especial hallmark of the totalitarian state) you cannot bar your own private door to the hectoring, incessant noise, but must have it literally brought home to you by your offspring.
Boy, that guy's got the fever. We're only a couple of years away from the PBS special in which Hitchens is visited by the ghost of fact-checkers past and learns the true joy of the season: Scotch.
22. San Francisco 49ers (5-9). Love to Lindsay Robertson, who brings us the story of poor Adolf Hitler Campbell, who can't get the personalized birthday cake he wanted..
JoyceLynn Aryan Nation Campbell, Honszlynn Hinler Jeannie Campbell and Adolf Hitler Campbell.

Good names for a trio of toddlers? Heath and Deborah Campbell think so. The Holland Township couple has picked those names and the oldest child, Adolf Hitler Campbell, turns 3 today.

This has given rise to a problem, because the ShopRite supermarket in Greenwich Township has refused to make a cake for young Adolf's birthday.
You know, you think Adolf's pissed now, just wait a decade or so, when he tries to get his personalized license plates.
21. San Diego Chargers (6-8). Amazingly, the Chargers are still alive in the fight to become the top squirrel in the AFC West. I'd make fun of them for this, but there's a very real possibility they'll end up with the same record as the Buzzsaw, so I'll just shut up.
20. Washington Redskins (7-7). And, ultimately, the Redskins ended up where most people thought they'd be all along. And now, a brief comment on the Shoe Tossing Incident.
You'd be hard-pressed to find someone more critical of the policies and actions of President Bush over the last six-and-a-half years than me, though I'm sure there are some people out there. I think he has caused this nation perhaps more harm than we'll ever be able to overcome. I think the only person who wants him out of office more right now than me is ... well, George W. Bush. But I find it appalling that anyone could see the leader of our country, the President, avert an assault in a foreign land and somehow find it funny, or see the guy who tossed the shoe as some sort of "hero." I mean, that's the President, guys. Sure. It was a shoe. But god, really? We're supposed to chuckle? I watched that video with horror; not just that it has come to this, but that people here could actually celebrate it. I hate that video. It makes me ill. It makes me scared.
Of course, now I'll embed it right here.
[stepping off soapbox, walking slowly backwards, hands in air]
19. New Orleans Saints (7-7). While we're talking "politics" — though we weren't really talking politics there — I was a little stunned to read that Time's Jay Carney, one of my favorite reporters throughout the campaign, had signed on to be director of communications for Vice President-Elect Joe Biden. For all the talk that sports journalism is so much more chummy-chummy back scratching than political journalism, imagine if the Yankees hired Mike Lupica, or the Mad Dog, as their manager? Isn't that, like, wrong? Isn't that against the rules?
18. The Buzzsaw That Is The Arizona Cardinals (8-6). Last week, I got some comedic mileage out of my "bandwagon" friend who watches Buzzsaw games with me. A couple of notes. First, I probably should have mentioned that he started cheering for the team before this season and its run. I'm not sure that's a point in his favor or not. More pressing, as much as I needled him last week, if it hadn't have been for him, I would have stomped out of the bar at halftime of Sunday's travesty. I'd forgotten just how much the Buzzsaw could enrage me. Hugely important game, and they show up looking not only like they were still hungover from last week's celebration, but like they were still drinking. And the worst part? They're gonna end up playing the Cowboys first round of the playoffs, which means my first ever Arizona Cardinals home game, in the playoffs, is going to have more fans from the opposing team. Just freaking awesome.