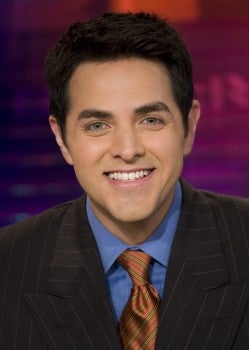 ESPN afternoon SportsCenter anchor Robert Flores took some time to answer my moronic email questions. He's good like that.
Many of you who have the luxury of staying at home all day might recognize Robert Flores from ESPN's afternoon SportsCenter, which he co-anchors with Chris McKendry. Or you might recognize him from his time on ESPNNews. Or, for those of you who are Lone Star residents, you might remember him as the Austin sports anchor who was fired after he accidentally dropped an f-bomb on air. Or you might not have any idea who he is at all. But you should . Here Flores gives us some insight into what it's like doing a live SportsCenter everyday, the fallout from getting fired, and how he's most likely never going to get caught carousing like some of his other ESPN colleagues.
DS: How do you like the live format? Have you had any missteps on the air so far that have been completely memorable? So far, we've had McKendry spout off "Viagra" instead of Villanova and Clayton allegedly breaking wind during the morning hour. Does this cross your mind every day when you do live spots?