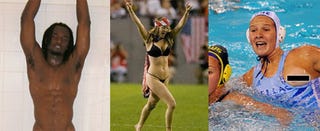 So, the next nine days will be chock full of end-of-year retrospectives. We'll do our own as well. Today: NSFW
One of the lasting legacies of the internet will be the way it's basically desensitized a large portion of the population to a naked human body. Somehow even the most profane images seem to be less unseemly when you see them online. Even when it's the unfurled penis of an NFL player. So be joyful or repulsed: there was an overabundance of accidental and purposeful nudity surrounding the sports world this year.
• Steelers wide receiver Santonio Holmes set the bar very high (or, in this case, very low) for his NFL peers to duplicate.