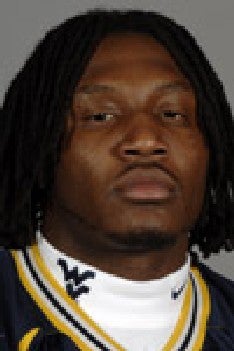 This Hugh Johnson post is in honor of John Holmes, WVU linebacker. We salute you... you know, with our hands.
North Carolina leads West Virginia 23-21 at the half as a track meet has broken out. For all the credit both quarterbacks deserve in this game (as well as the secondaries of both teams), the wide receivers have been absolute beasts. We flicked three-year-olds off us at the holiday party with more effort than Hakeem Nicks and Alric Arnett have needed on their touchdowns.
We're a little worried some of you boughed your own holly a little too far this holiday season, as represented by Hugh contributor DH86SJ:
last night was awesome because of the jager bombs and white castle. these are also the things that are making me miserable today. along with the NBA-grade defenses in the meineke car care bowl. i'm a bengals fan, so seeing both teams score confuses me.
We love you, man, and we give you total permission to roll over on the couch and sleep it off. We'll cover the bowl games in the morning so you can just write it off on the blackout.
We owe thanks to Hugh contributor PooolMan:
Just a quick FYI, Schnelly did lead us to a New Orleans Bowl victory last year (quickest ever in D1), also you are welcome for our dance team.