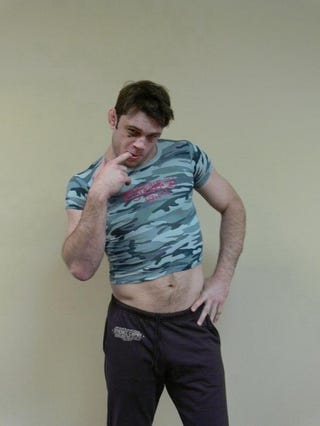 UFC 92 has more than its fair share of heavy-hitting heavyweight bouts tonight, including former stars, current stars, and those wishing to switch stations between the two.
Las Vegas will host a light heavyweight title bout, an interim heavyweight title bout (what, so they don't have to put the real belt on the 2008 budget?), and a light heavyweight bout that could have been a title bout if it wasn't for a vacancy in the mental department for one of the fighters.
First, Wanderlei Silva swings his Axe Murderer persona at Quinton Jackson. UFC is actually allowing him to bring the axe on the mat to counteract the Ford F-150 Quinton will bring into the octagon.
Next, Antonio Nogueira and Frank Mir will roll around on the ground until they get the funk as these two once-were and never-beens get their shot at the interim heavyweight crown. (They had to switch from a belt so Frank Mir could wear the title in the photos.) (We kid, Frank; please don't hurt us.)