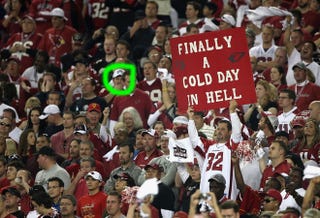 An hour before the tailgating area in Glendale opened Saturday, I met more Arizona Cardinals fans than I'd met in my life. There were three. We were packing the car.
You can imagine, then, how overwhelmed I was when we actually arrived and saw thousands of them. Sure, most of them probably didn't care about the team until sometime about a month ago, or they got tickets because they got a good deal on a whirlpool last week or something. One family I talked to seemed unaware the Cardinals had ever even been in St. Louis. It was fine. I was just happy they existed.
Walking into the official team store was quite the experience. I've never been able to find official Buzzsaw merchandise anywhere, and, predictably, the team's Web site has never been able to figure out e-commerce. (An attempt to buy an Anquan Boldin jersey two years ago ended with three extra charges, countless phone calls to bored receptionists and, ultimately, no jersey.) But here! Here they have Neil Rackers bobbleheads!
Seeing all this in one giant gulp — only my second trip to the state of Arizona ever — was a bit overwhelming. I tried to come up with the best analogy for going from never knowing any Buzzsaw fans to being surrounded by 50,000 surprisingly loud ones for the first playoff game in 61 years. It was a struggle. Here are the best three:
1. A kid grows up in Bible Belt Arkansas afraid to tell the world he's gay, then stumbles across the Market Street parade in San Francisco.
2. A boy raised by vegans is pumped with Scotch and given a table at Peter Luger's.
3. A.C. Green's wedding night.
Yep, sex and food. Sounds about right.
Anyway, there's not much more I can tell you about the game except that I flew all the way out there, paid for the tickets and flight, took a red eye back, put off my work and personal life, all for this one game ... and I was outside smoking during the turning point, Antrel Rolle's fumble recovery to start the second half. I walked back in the stadium, looked at the scoreboard and, suddenly, it was 21-17. Hey, cool ... thanks, NICOTINE.
But yes. I saw the Buzzsaw win a playoff game, I screamed like a moron for four hours, I've barely slept for three days and this is all just getting started. That's probably the best way to describe life as a Buzzsaw fan. The Cardinals have to win a World Series to send me into apoplexy; all Arizona has to do is win a wild-card playoff game that, had Keith Brooking remembered how to defend a third-and-16 play, they would have lost in the most crushing way possible. They're surely going to get hammered Saturday night. That's all right. Baby steps.
Plus, now I have this bobblehead of Neil Rackers.
12. Miami Dolphins (11-6). Well, that didn't really work out. You know what else is starting to look evident? That this will be the one season the Patriots didn't dominate, an anomaly. The Dolphins were nice this year, but Chad Pennington won't pull that off again, and, you know, the Wildcat isn't all that shocking of a formation, after all. The Jets are going to have to start over, and the Bills are still the Bills. The Patriots are going to go 13-3 next year no matter who's quarterback — I still think they're signing a big dog running back to dominate ESPN when they're not updating us on Favre — and we're going to go through all this, again. Great.
11. Minnesota Vikings (10-7). Hey, it's not so bad, Minnesota! This guy is your Senator now! (For the record, I think Al Franken will be a fine Senator. But I'll say I'm glad Dick Durbin doesn't have a video like that in his past.)
10. Atlanta Falcons (11-6). Allow me to take this opportunity to congratulate Jay Mariotti on his new column on AOL Fanhouse. (I'm doing my part to make him more famous.) I mostly feel bad for Lisa Olson, another AOL hire, who's awesome and no one will notice now, and Michael David Smith, my old college pal and excellent reporter who now has to deal with the stigma of having being called a great journalist by Jay Mariotti. Like always, it's time to just accept the wisdom of Roger Ebert: "On your way out, don't let the door bang you on the ass." Right now, there's a Mottram brother doing backflips that he gets to deal with MJD and Skeets rather than that guy. And half of "Around The Horn" is now employed by AOL Fanhouse. Hmmm.