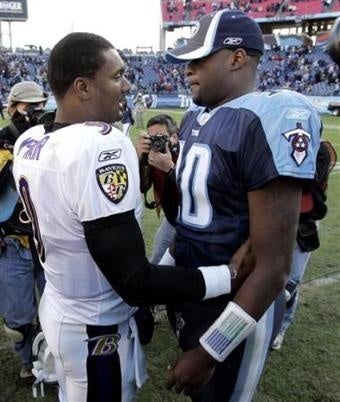 A Baltimore radio station organizing a "pep rally" in Nashville for fans attending the Ravens-Titans game on Saturday, naturally looked to a former Raven with local ties to help out. Big mistake.
You see, the former Raven is also beloved former Titan Steve McNair, who agreed to participate because proceeds from the event would be given to his charity foundation in Tennessee (as well as the Ronald McDonald House in Baltimore.) And that just will not do.
As noted earlier, local media jumped all over this apparent betrayal and fans and former teammates were outraged that McNair would stoop so low as to raise charity dollars for those worthless pukes in Baltimore. It was the lead story on the 10:00 news, and McNair was forced to admit that he was misled, that he would never support anything Charm City related, and he would withdraw. Because fuck those kids.