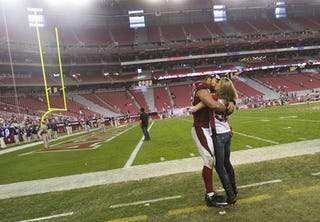 It seems my beloved teams are making a habit out of this Ridiculous Postseason Run business. In retrospect, it was the only way it could have gone down.
On the "SportsCenter" the night of the Buzzsaw That Is The Arizona Cardinals' NFC Championship victory — and that's a phrase that will never look right, ever — ESPN ran a list of "unlikely playoff winners." The group of Buzzsaw fans I was with, a group that, as tends to happen, is now pretty much full of lifelong friends, groaned as we saw footage of the 2006 George Mason Patriots, some hockey team I knew nothing about and, amusingly, the 2006 St. Louis Cardinals.
Anyone who was around here back then will remember how that went down, my 6 a.m. drunken posts and dancing idiocy. (That World Series was also the start of DUAN.) But what most won't remember is how cynical I was about that team going into the playoffs. That is to say: I was pretty sick of watching them by the time National League Divisional Series began. I groused that this team didn't deserve to call themselves Cardinals, and my NLDS Game 1 live blog reads today like someone wanting his team wanting to hurry up and lose and get the pain overwith already. That was not a good team. They did not deserve to win the World Series. They got lucky. I am not complaining about this. It is simply fact.