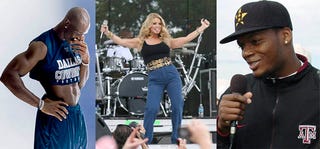 Dear VH1: Please develop a reality series starring Terrell Owens, in which he examines his many personal problems with his publicists. P.S., I am not a crackpot.
It's true: The network just announced that it's developing a reality show centered on the life and times of Owens, who may or may not even be with he Cowboys next season. "VH1 announced Monday that the series takes place in the offseason, and T.O.'s best friends and publicists — Monique Jackson and Kita Williams — will help him re-examine his personal life. The two will work as 'matchmakers and therapists' for Owens." Sounds like I'm gonna need a whole handful of caffeine pills to stay awake through this.
That caps an exciting day in Cowboys news in which we also learn that tight end Martellus Bennett has recorded a rap song in which, among other things, he rhymes "Romo" with "homo;" and Romo's beloved intended, Jessica Simpson, appears at a chili cookoff in Florida showing off a few (dozen) extra pounds.
In case you're looking for Bennett's video, YouTube seems to have taken it down ... at the Cowboys' behest? By all accounts it was pretty bad. Here's a description:
It's just about what you'd expect from the Cowboys' wildly entertaining, slightly crazy young tight end. His first video features Bennett busting a freestyle rap bragging about having "Jerry Jones money" (while wearing a Cowboys helmet) and includes a bunch of words that aren't allowed to be used on this here blog. He has another R-rated rap titled, "Google Me" on his MySpace page. Hey, what do you expect from a goofy 21-year-old millionaire who doesn't have any professional obligations other than to work out daily? But I did call Bennett to request that he tone down the language in his raps.
Meanwhile, the center photo of Jessica Simpson above was taken at the 99.9 Kiss Country Chili Cookoff at C.B. Smith Park in Ft. Lauderdale on Sunday. Quite a transformation since July, I must say. Jessica, in WhyFame.com: