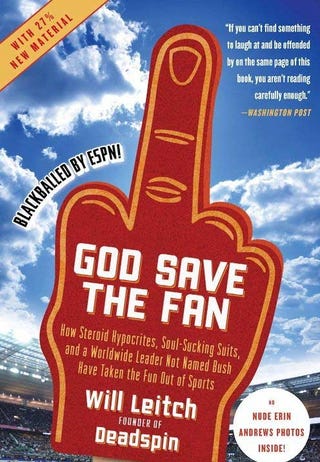 Today, the paperback version of God Save The Fan is released to bookstores. There's some stuff that's different than the last version.
Those of you who were around a year ago will remember the rather extended hullabaloo about the book's initial release. There will be less of that this time around, and for that, you're welcome. In fact, all you have to do is make it through this post.
But, Will, you ask: Didn't we just do this? Isn't this the same book? Well, no, not really, and no, not really. But let's just head into the questions I'm now asking of myself.
I bought your book last year. Why should I buy this?
Because Deadspin has always been free. But more to the point: Because there's new stuff. Included in this new version are essays on Shaquille O'Neal, Erin Andrews, Matt Leinart, A Bunch Of Stuff That Happened Since The Last Version and, perhaps most of interest, a big long honking 10-page essay on that "Costas Now" business.